In preparation for the reopening of Puerto Princesa City's tourism industry, the Incident Management Team (IMT) presented the new health protocols and guidelines for business and establishment owners during a training and seminar led by Dr. Eunice Ponce de Leon-Herrera at the City Coliseum last November 18, 2020.
The new protocols include posting health guidelines in the triage area, maintaining a one-way traffic of people coming in and out of establishments, social distancing, appropriate location for proper donning and doffing of Personal Protective Equipment (PPE), proper PPE per employee, isolation area for individuals showing signs and symptoms related to COVID-19, proper hand hygiene, use of face masks, and other required basic necessities such as pedal trash bins, clean water, and soap. These will be implemented and checked by the IMT.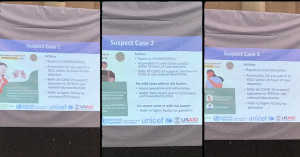 The IMT also explained the differences between suspect case 1, 2 and 3, probable case, confirmed case, and close contact to teach business and establishment owners the appropriate control measures that should be followed if there is a suspected individual infected with COVID-19.
Each facility is also required to create a contact tracing team. Forms will be sent to the establishments for contract tracing which will then be referred to the IMT.
Furthermore, whilst IMT reminds everyone to follow the minimum health standards, they requested the public to reserve medical masks for front liners and those who are sick or are caring for the sick, and the N95 mask and goggles for front liners in close contact with COVID-19 patients.
The IMT added that guidelines and protocols for tourists are being finalized together with the IATF, while the current guidelines being implemented in establishments might be amended. The updates regarding this matter will be posted on their Facebook page.