Last Updated on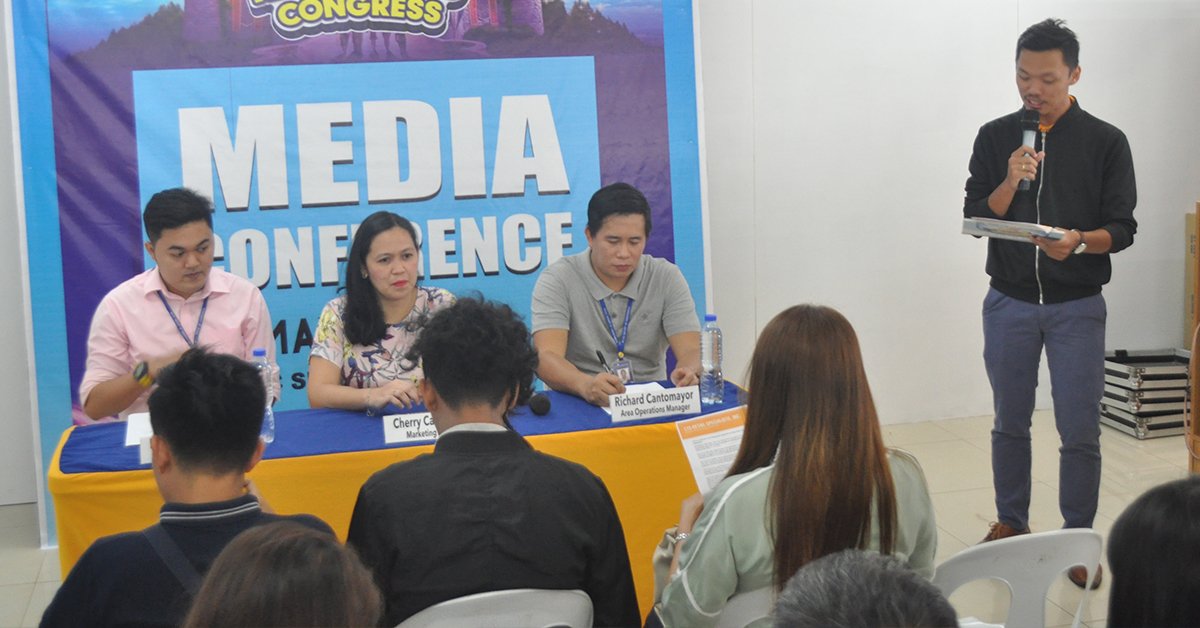 New City Commercial Corporation (NCCC) will hold its two-day annual "Kanegosyo Congress 2019" at the NCCC Mall Palawan this May 17-18 with Disney theme to combine business and offer fun and memorable shopping experience.
During the press conference NCCC Area Operations Manager, Richard Cantomayor said the event originated in Davao and is now on its 16th year in Palawan.
NCCC Rewards Club holder will have exciting surprises and discount on the event, "As we reveal our shopping surprises to our valued Palaweño shoppers ngayong Kanegosyo 2019 so 16 years na po itong event na ito originated in Davao city so taon taon nag hahanda kame ng iba't ibang surpresa and kanegosyo ideas and exclusive shopping discount para sa mga NCCC rewards Club members natin," Cantomayor said.
Furthermore shoppers will also enjoy up to 50% discount on selected items with more than 30 distributors will be joining and dress-upped as Disney characters to represent good exclusive deals and product bundles.
"So this 2019 makaka-avail yung mga shoppers natin up to 50% discount ng mga iba't ibang sari-sari store bundles. Kanegosyo Congress 2019 is inspired by Disney so combined the business and fun shopping experience so more than 30 distributors will be joining the fair that will be dress up with some Disney accent here to represent exclusive discount great deals and product bundles on selected items," Cantomayor added.
On the other hand, NCCC Store Head, Ryan Aganon shared to media apart of having a big event NCCC Supermarket they received a commendation from the City Government of Puerto Princesa for the initiative and minimizing of single use plastic as primary packaging.
"I would like to share lately ginawaran kami ng city government, acknowledging NCCC for the initiative and minimizing the use of single use plastic as primary packaging materials so first time din makatangap ng ganitong award acknowledging by the city government of Puerto Princesa, thank you for the support specially sa mga vloggers natin and then we are currently accommodating the GO Green Program so we go sustainable and environmentally grocery shopping so ang aim po neto is mabawasan ang usage ng plastic natin," Aganon happily shared.
Mr. Aganon also said that instead of using plastic, the use of paper for the packaging of eggs and banana leaves for fruit and vegetables was pushed as the primary packaging, and it got viral lately on Facebook.
"Way back in Davao meron po kaming sister company named Helen's Farm so dito po nag start yung Go green so instead of using a plastic for the packaging of Eggs we have converted into paper and then para naman po sa packinging ng mga gulay and mga fruits namin we use banana leaves in packaging medyo na trending na sya sa facebook," he said.
For the mommies, NCCC Marketing Supervisor, Cherry Camahalan says in part of mother's day celebration this month of May, moms now have a special lane counter they called "Mommy Lane" where giving priority to mothers shopping with their children or toddlers.
"Aside from the Kanegosyo Congress, one of the biggest selling event ng NCCC Supermarket meron kaming inihanda para sa shopper especially sa mga mommies, we just launched it this month of May for the celebration of Mother's Day we have this special mommy lane counter," Camahalan said.
It's also an initiative of NCCC Supermarket to make it a mommy destination.
"Why are we doing this? Bakit kami nag-provide ng special counter for our mommies NCCC supermarket kasi is aspiring to be top mommy destination, kasi as we all know yung NCCC supermarket is known siya kapartner siya sa pag unlad ng atting mga small sari-sari store owner, so we are known for kanegosyo shoppers but this time we want to aspire, we want to propose that NCCC supermarket can also be a mommy shopping destination," She said
In addition fathers can also que on mommy lane as long as they have their babies or toddlers with them while shopping at NCCC supermarket.
"Actually we are promoting it as mommy lane, but ung mga daddies na may dalang mga babies kasi meron naman talaga or toddles actually meron they can pay at the mommy priority lane," Camahalan added.