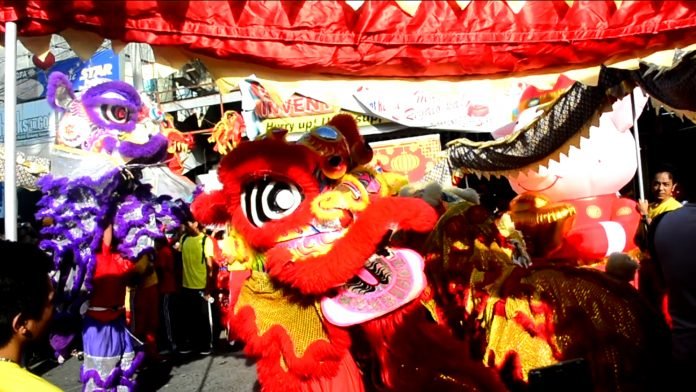 Hundreds of people gathered and joined the festive celebration of Chinese New Year last Tuesday, February 5, along China Town area, Valencia Street.
The celebration started with a Chinese New Year parade along the major streets of Puerto Princesa followed by the famous lion and dragon dances.
The people were entertained by the Banwa Dance Troupe who showcased traditional Filipino dances. Students from Palawan Hope Christian School rendered Chinese songs as they played their tambourines.
During the celebration, there were free Tikoy or Nian Gao, which in Chinese culture, symbolizes fertility, luck and wealth. Firecrackers and fireworks display were also part of the celebration which are hoped by the Chinese people to scare away evil spirits.
Atty. Joel Tan, President of Puerto Princesa Chamber of Commerce and Industry Inc., one of the speakers during the program said that the celebration is a way of appreciating the tradition of the Chinese community. "Ito po ay pagpapahalaga sa tradition, kultura at pagkakaibigan nating mga Filipino at Chinese," he said.
Miss China Town Coronation night was also held on February 5. The newly crowned Miss China Town 2019 is Ms. Topaz – Farrah Maxie Barber and her runners-up were Ms. Sapphire – Carilyn Shaera Balocating (1st runner-up) and Ms. Amethyst – Xianne Caileigh Francisco (2nd runner-up).
The Chinese New Year 2019 celebration was the 3rd year of Puerto Princesa City's celebration of the Chinese New Year since Vice Mayor Luis Marcada III authored an ordinance institutionalizing the "Fil-Chi or Chinoy Festival" as part of the celebration of Chinese New Year in Puerto Princesa City last 2016.
The celebration was headed by the City Government of Puerto Princesa through the City Tourism Department together with the Filipino-Chinese Chamber of Commerce and Industry Inc. of Puerto Princesa and Palawan.