Last Updated on

The commercial aviation industry is a highly complex space, where a large number of entities are involved in the delivery of travel products and services, which is sometimes manifested in a single product from a customer perspective.
Most of the workers in this industry are often collaborating and partnering to be able to co-deliver value and meet the expectation of customers. According to International Air Transport Association (IATA) statistics, from the moment passengers search online for an air ticket to the time they arrive at their destination, the airline is just one of around 26 business partners involved in the aviation chain.
Would you board a plane if you know it has very poor maintenance record? Would you put your life in the hands of an airline that uses defective parts for its aircraft? If you answered no to both questions, then you would appreciate the importance of other players involved, especially the aircraft maintenance industry. Basically, the safety of air travel relies on the assurance of quality manufacturing of aviation equipment and its maintenance that ensure that complex and sensitive puzzles have to sit perfectly together for the success of each flight that takes place anywhere in the world.
Truth be told, aircraft maintenance, repair, overhaul and modification services have a long history of been seen as a 'white man profession' but there seems to be a paradigm shift in the profession with inspirational success stories from Asians or other Nationalities who have great passion and love for all the aviation industry.
According to him (Mitchelle Ordonez), I came from an extremely humble FAMILY BACKGROUND my mother is a teacher and my father is prison guard. We lived in a simple life together with my other four siblings in the small town of Barangay Sta. Lucia, Puerto Princesa City, Province of PALAWAN
''One thing I tell people is this, in life, you must know who you are! God did not bring anybody into this world for no reason, everybody has a reason why he or she is existing. So, I remain focus though the future was still obscure then.
He said: What has helped me is my being bold. It takes a bold person to be able to take up the pressures in the Aviation Industry. It is not for weak people. Growing up you can imagine a man, sleeping and waking up in the bush, encountering snakes and all sorts. ''Going through that wilderness, going through tough times I worked different and odd jobs just to make ends meet,   I worked as Valet, Doorman at Wyndham Hotel, Line cook and prep cook. Until I realized that I needed to go back to school so I can get my license and work in the aviation field. After I finish my schooling in the Broward College in the State of Florida, USA. I got my Federal Aviation License and started working at Sikorsky Aircraft at the New York plant in Elmira, NY in 2010. Then after 1 year I moved back to Miami and worked at Commercial Jet, then worked at Miami Air International as A flight Engineer in 2014 until now.
I'm very lucky with this job because "I ALMOST TRAVEL THE WORLD". I am thankful and blessed I met a lot of people from different countries who became my friends.
I was young and inexperienced before but I had the drive, passion and commitment to excel and it was my desire for the airline owners to be able to train locals to take up the jobs the white people were doing, not that I was racist but because I believed they can do it.
He discuss to us also the 5 important tasks of a flight engineer;
Flying a plane is not child's play–it's not just mere landing and takeoff. It's also about choosing the best routes, altitudes, and speed for the smoothest and safest flights. Fortunately, pilots have flight engineers to help them ensure the safety of the passengers.
Flight engineers, also known as air mechanics, monitor the instruments used on airplanes during flights. Their technical expertise allows pilots to focus on flying. Flight engineers have a lot of responsibilities on and off the ground. Here are some:
Repair any mechanical issues
One of their duties is to ensure that if any mechanical problem arises, they will be there to mend it.
Monitors the plane's mechanical instruments
If pilots happen to have problems with the airplane's mechanical instruments, flight engineers are the ones to call. They monitor the aircraft systems such as engines, gauge, wing flaps, and pressure indicators.
Preflight and post-flight inspections
They look at the weather conditions and check the proper amount of fuel needed for the whole flight. Flight engineers are always in communication with pilots in case there are any issues needed to be addressed. In addition, they read checklists and execute required actions under the captain's orders.
Submit a complete flight log.
It's their duty to file a comprehensive report and to contact the mechanics for repairs if a problem occurred during the flight. They carry out necessary actions to resolve any flight problems.
Check if the weight limits are met
They monitor the loading of cargo and passengers to make sure that the plane is still within the weight limits.
When it comes to flying planes, there is no such thing as bigger roles and smaller roles. Flight engineers are as important as pilots. Whatever your dream may be, whether to be a pilot or a flight engineer–it's a job that matters, a dream worth pursuing.
MITCHELLE ORDONEZ AUTOBIOGRAPHY
Mitchelle Ordonez was born on March 4, 1971 at Barangay Sta Lucia Sub-colony, Puerto Princesa City, Palawan. His parents are Felix Ordonez-(D) was a prison guard at Sta. Lucia Sub-colony and Letty Reynoso Ordonez, a Retired principal of Sicsican Elementary School and Puerto Princesa Pilot Elementary School.
Mitchell has 4 Siblings, they are the following; Aldrin, a Jail Guard at Narra BJMP, Jeffrey a C.P.A and former B.I.R examiner, now a Businessman in a trucking business, Sharon O. Jagmis, a Law Graduate/ Former RTC employee, now manages Jagmis Law Office and she is the wife of Atty. Richalex Jagmis and while the youngest one is Cormela an Electronic and Communication Engineer now based in Toronto Canada.
Mitchell lived in a simple and humble childhood, happy and contented as a kid. After his elementary years from Sta. Lucia sub-colony he moved to Puerto Princesa City proper to study high school at Palawan National High School and he graduated in the year 1988. Then he studied college at PATTS College of Aeronautics in MANILA and he graduated with the degree of Bachelor of Science in AERONAUTICAL ENGINEERING in 1992.
He was telling us that his fondest childhood memory was early in the morning they went fishing at the Pantalan (harbor) of Sta. Lucia sub-colony; having to watch TV at the neighbors' house; electricity is limited by then and it was shut down around 8:00 in the evening. As a little kid he is always wanted to become a pilot, that's why he took up B.S in Aeronautical Engineering major in Aircraft design at PATTS School of Aeronautics in Pasay City.
According to him, the biggest influence in his life was his FAMILY, "My inner strength comes from the strength of my family unit. The people I consider family form a power source from which I can pull in times of need. Whichever part of my being that is drained can be recharged when I envelop myself in family. I can lean on my family for support during hard times. When I feel like I am about to break, my family members serve as a crutch to keep me upright.
My family is synonymous with trust. I am part of a unit that feels comfortable expressing anything because of the honesty that stands behind it.
Today, I am the person I am largely because of the influence of family. I know I can rely on family for support, strength and honest expression. I am glad that my well-being is their priority and I feel confident to take any step with the knowledge that their support is behind me.
I met my wife thru her brother who was my barkada/ best friend in College in 1991, the beautiful and lovely Miss Doreen Beltran. After couple of years we're been together before we got married in SEOUL, KOREA in 1999 in a simple wedding ceremony. We, got 3 children; The eldest is Mitchell he is 25 years old. He is a US Navy submarine Nuclear Electronic Technician and planning to pursue his Nuclear Engineering course, the second one was 22 years old, his name was Lyon he is studying as Associate in Aircraft Technology and the youngest one was Diana, she is 8 years old.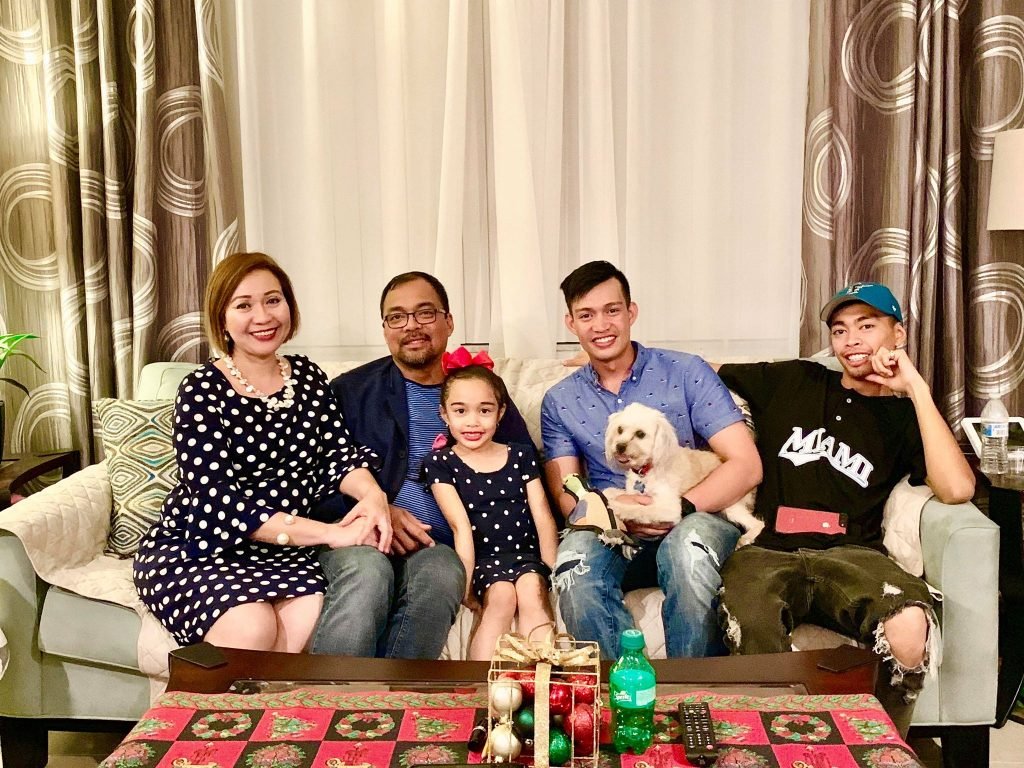 I came over here to the United States in the year 2004. I worked different and odd jobs just to make ends meet,   I worked as Valet, Doorman at Wyndham Hotel, Line cook and prep cook. Until I realized that I needed to go back to school so I can get my license and work in the aviation field. After I finish my schooling in the US.  I got my Federal Aviation License and started working at Sikorsky Aircraft at the New York plant in Elmira, NY in 2010. Then after one (1) year I moved back to Miami and worked at Commercial Jet, then worked at Miami Air International as A flight Engineer in 2014 until now.
As per Mitchelle during his free time, he went out for fishing or he cooks for dinner for his family, it was his most favorite past time.
He told us that when he was in the Philippines, "I was laid off and didn't have a job for 3 years that is why I decided to work in Korea for 3 years in a textile factory. Being away from my family especially to my children for that long was years was the worst thing ever happened because I missed those years that when they are growing up that I'm not on their side".
The best thing that happened was the opportunity to migrate in the US and fulfill my dreams.   I did not become a pilot, but a least I still work in the plane, and working closely with a pilot. I take pride in what I do because I know that I worked hard to be in this position. And as part of the crew I know that I played an important role in the safety of all our passengers, which is my number 1 concern.
But my biggest dream as of finish my children in their school and have a beautiful future. I only have simple dreams in life. I don't have to be rich I just wanted to retire in the Philippines in a simple way with my family.
I am proud that I am able to give pride to my parents and to my family. I never expected that I will be able to land in this kind of job. I am proud that I am able to provide everything that my family needs.
Everything is possible as long as you are determined to do what you want in life. Remain humble and always keep your feet on the ground. Always have faith in GOD. And lastly, if you received blessings… make sure to pay it forward.