Last Updated on
Sick and weakened. Mother Nature is crying her unheard call for help, devastated and destroyed by the children she housed, by the children she gave everything to, and to children she loves. Mother Nature weeps for the unimportance her beloved human gave her, trembling with fear knowing that everything will have a certain end.
Amidst the growing problems with climate change, global warming, melting of polar ice caps, pollution, extinction of animals and ignorance of the people, Earth Day is celebrated every 22nd of April globally as an expression of support to the conservation of environment through various environmental activities. This year is the 49th year of the Earth Day starting from 1970.
Known for being nature friendly, Yamang Bukid Farm conducted a tree planting activity as a support to the annual global Earth Day celebrated by many countries with the theme "Nature and Biodiversity Conservation: A Global Responsibility".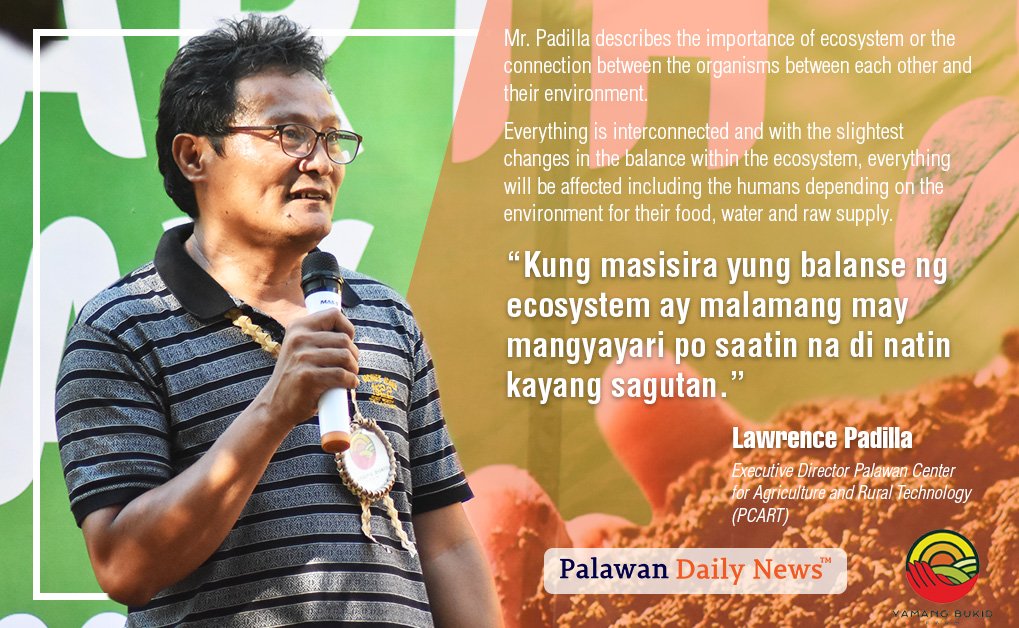 The Executive Director Palawan Center for Agriculture and Rural Technology (PCART) Lawrence Padilla had his speech during the program discussing the importance of biodiversity and ecosystem or the connection between the organisms and their environment as well as the negative effects of human activities to the balance of the ecosystem.
"Kung masisira yung balanse ng ecosystem ay malamang may mangyayari po saatin na di natin kayang sagutan," Padilla said.
Imbalance in the interconnection in the environment will have an effect to all since everything is interconnected. Humans are part of the ecosystem and they depend on the environment for the resources they need to survive. Aside from survival, humans depend on the environment for the raw materials for their industries.
"Kinuwenta nila (International Union for Conservation of Nature) sa isang taon kung gaano kahalaga yung binibigay na kung vavaluehan mo ng pera sa buong mundo ay estimate nila ay 33 trillion US dollars. Yun yung halaga na ibinibigay ng samu't saring buhay o biodiversity," Padilla added.
People from different agencies, organizations and institutions had their hands dirty as they embraced the earth planting the saplings to the ground. Farmers, teachers, government employees to soldiers, everyone bent their knee to Mother Nature helping her recuperate the damage done by the wrongdoings of the people.
A thousand saplings are used in the activity. The Berong Nickel Corporation provided the saplings used. They provided with trees endemic in Palawan for a higher chance of survival since this is the environment these trees flourish.
"Yung pinrovide nating seedlings, karamihan sa kanila ay endemic species ng mga punong kahoy. Ibig sabihin yung mga nabubuhay dito sa atin locally karamihan sa Palawan katulad ng ipil, narra, talian yun yung mga naidonate natin." said Jaypee Dela Cruz, Representative of Berong Nickel Corporation.
Helping the nature is not a new thing in Yamang Bukid Farm since they promote organic farming which significantly help the environment by reducing the toxic chemicals form insecticides and pesticides. Aside from organic farming, the farm also continuously plants trees to help the nature.
"Matagal nang ginagawa ng Yamang Bukid Farm ang pagtatanim ng iba't ibang klase ng puno, kahoy, mga halaman, mga iba't ibang klase, which means biodiversity. Iniembrace po namin dito sa farm yung kahalagahan ng nature at biodiversity," said Dr. Jun Abalos, Organic Farming Consultant of Yamang Bukid Farm
Dr. Abalos also discussed the impact reduced by the Yamang Bukid Farm by employing the people who engage in illegal activities like illegal logging and kaingin as well as the carbon reduction in planting trees.
"I-average natin ang bawat isang farmer ay magpuputol ng apat na puno sa isang araw, we have 162 of them. Masisave natin yung around 648 trees in a day, kung icocompute natin yan sa isang taon, imumultiply natin yan ng 365 days, yung 648 trees magiging 236,520 trees and naitulong ni Yamang Bukid Farm para maisalba with the employment of this 180 farmers," he said. "Sa isang ektarya, na ang kahoy niya ay may 500 trees na maitatanim per hectare, darating ang panahon nakapag nagmature na sila art kaya nilang magabsorb ng around 150 to 280 tonnes of carbon doioxide per hectare per year," he added.
Yamang Bukid Farm wants to spread their cause for the environment not just for the present but for the future years to come. Embracing the earth and giving back to Mother Nature is important to conserve the resources she bestows to us. We have to hold hands together do something by hearing the cries of Mother Nature.