The Junior Chamber International (JCI) Puerto Princesa Oil in partnership with NCCC Mall Palawan and Palawan Daily News celebrate Mother's day special event of  Wow si Mom Year 4, May 9 (Sunday) via Kalayaan live streaming services of 6th Civil Relations Group and broadcast online live at Palawan Daily News Facebook page.
The two-part program hosted by 2021 JCI Puerto Princesa Oil Vice President Internal Vonne Seiryne Yu Magbanua and Ms. Grace Ann Balestrino of Palawan Information Office started at 1 in the afternoon.
The new segment of Wow si Mom dubbed as Oki Dok launched as first part of the program, which bid to provide public health services amidst pandemic thru online telemedicine.
The guest doctor from City Health Office Doctor Eunice Ponce De Leon-Herrera discussed why telemedicine is the future as new face of health care in the city because of continuous surge of COVID-19 cases and stricter community restrictions.  "It is better option kesa hindi mag pa check up ang patient" she said.  It is because of patient  fear of acquiring the virus at the health clinic and hospital why some patients chose telemedicine.
The viewers of online broadcast sent questions  and queries about their health related condition and sought advice at guest doctor for immediate remedy.
The much awaited 4th Gawad Ulirang Ina "HERoes of our lives" held a virtual ceremony with participation of 2021 JCI Puerto Princesa Oil President Carlo Buitizon, NCCC Palawan Mall Manager Engineer Raymond Santos, JCI Philippines Area 3 Vice President Abraham Cataquiz and 2021 JCI Palawan Regional Vice President Mark Anthony Preconcillo and members of JCI Puerto Princesa Oil.
The local organization  named the awardees in time of celebration of special day of all mothers. The awardees were:
Celeste P. LIbao ,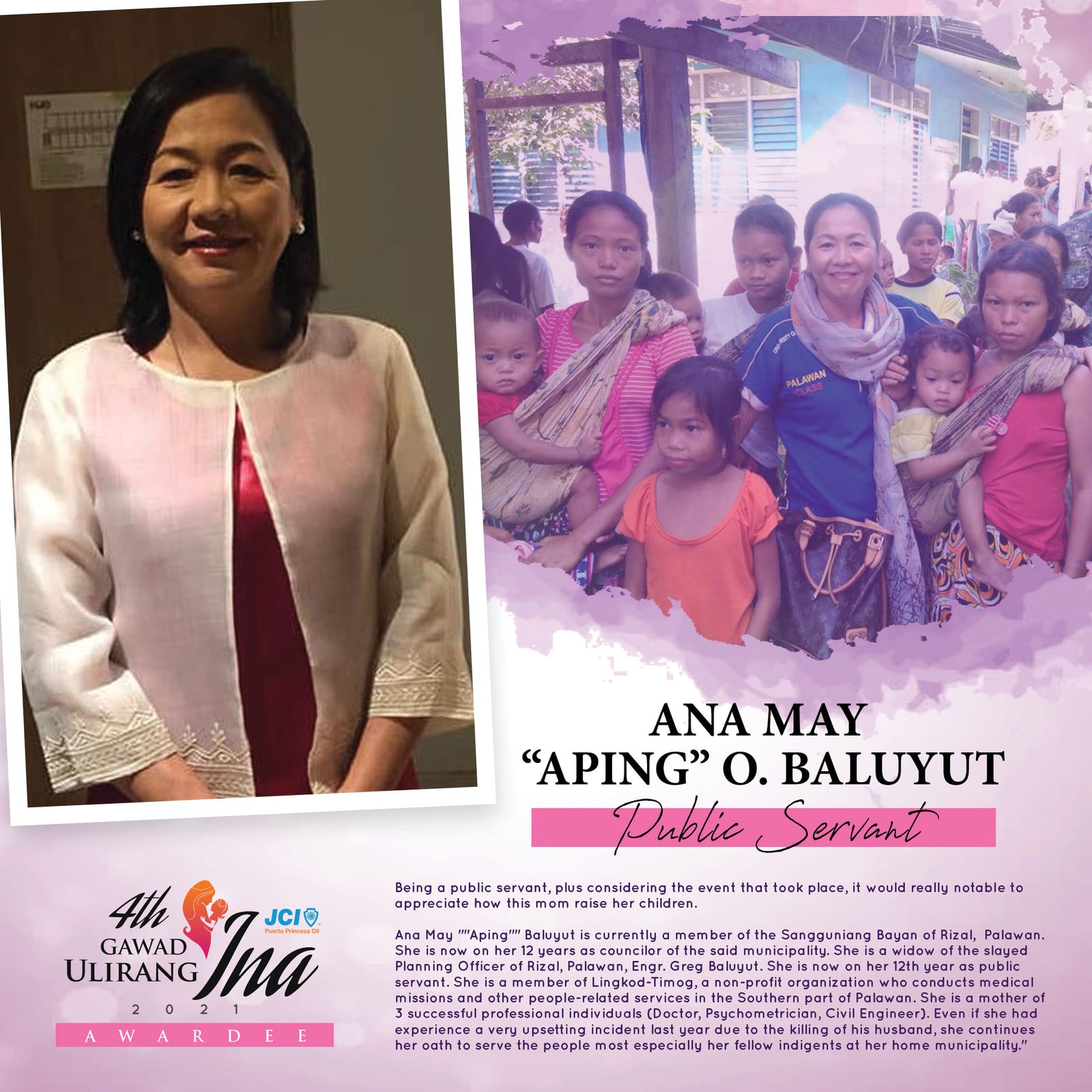 Ana May O. Baluyut,
Kristine De Castro,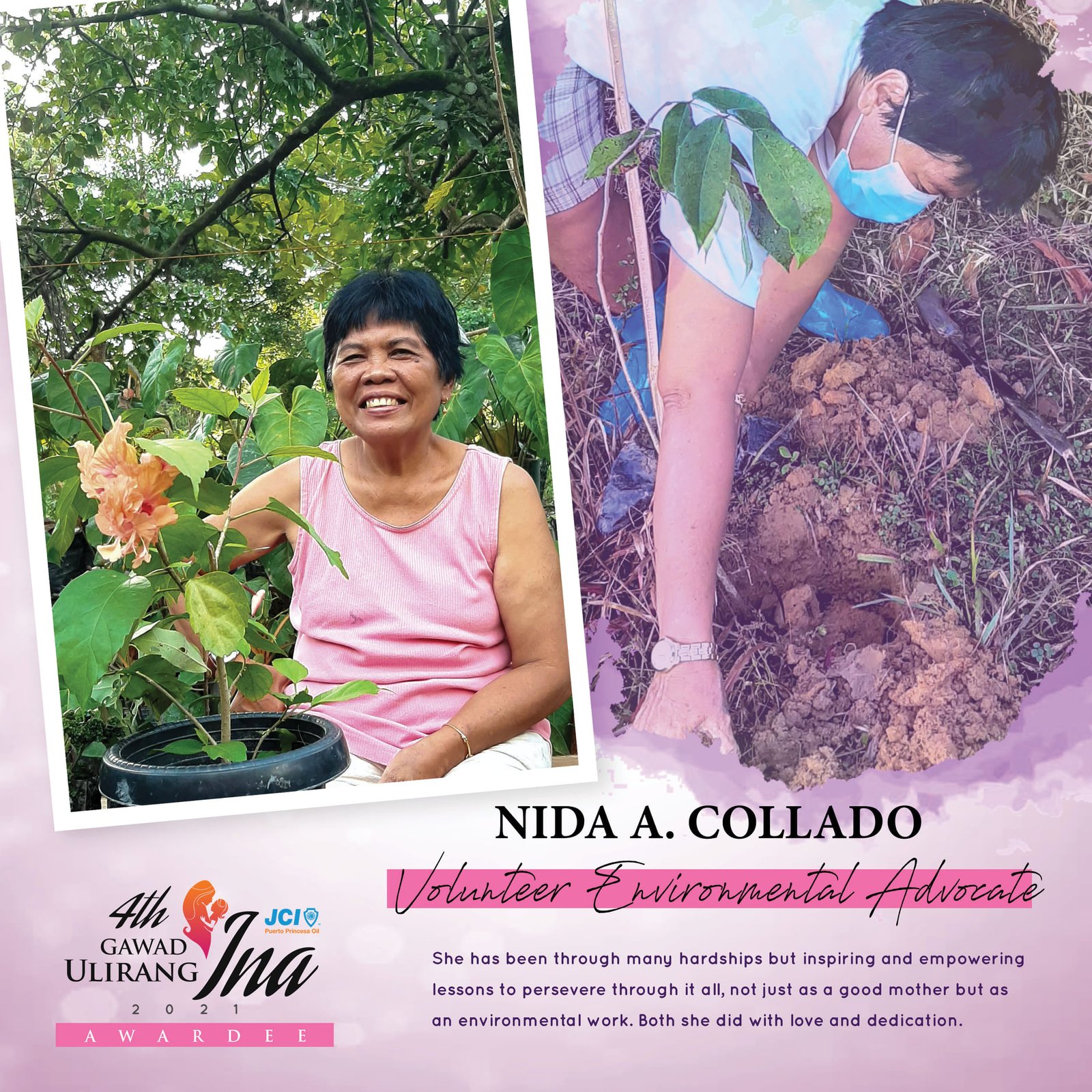 Nida A. Collado,
Sandra G. Dela Cruz,
Eunice Ponce De Leon- Herrera,
MA. Teresita F. Jardinico,
Marisal D. Santiago and
Elizabeth C. Soler.
These mothers were selected based on Gawad Ulirang Ina criteria  to  recognize mothers who did a great job in their line of work, promoting community empowerment through advocacies and also successfully raising a family.
"The challenge to lead a banner project of JCI Oil 'Wow si Mom' amidst pandemic pushes us to extend our limits of creativity to celebrate meaningfully the special day of our mothers."
Today as much as possible we want to create a special connection and bonding of all families with our mothers at the comfort of their home. To address such need, Wow si Mom salutes the HERoes of our lives thru empowering event at their special day" Vonne Seiryne Yu Magbanua said, 2021 Project Chair of Wow si Mom.
A photo exhibit of Gawad Ulirang Ina awardees will be part of the month-long celebration of Mother's day at NCCC Mall Palawan together with a
NAYgosyante Webinar Summit – on Saturdays of May
-May 8 How to Start Up a Small Business
– May 15 Financial Management – Bookkeeping
– May 22 Marketing Strategies
– May 29 Start up a Small Business.
The awardees will receive a plaque courtesy of Tatak ni Tatang Printing Services, gift check and token from NCCC Mall Palawan, and other sponsors.  The Wow si Mom Year 4 is also in partnership with Shakeys and 6th Civil Relations Group.