For the third time, Berong Nickel Corporation receives a national safety excellence award in a recently concluded 5th National Convention and General Assembly in Cebu City.
The award was given to BNC because of its strong implementation of highest level of safety and having achieved a no lost time accident in their operations.
"The attainment of no lost time accident in our operations was made possible because of the strong commitment to implement the highest level of safety in our operations from the top management down to the lowest rank of our operations," said Mr. Rolando Sajot, BNC's Safety and Health Superintendent, who is also a recipient of the award together with their Safety Officer Mr. Ralph Adrian Fabian.
"First, I would like to thank God for the award and recognition. This will not be possible without his guidance in making every personnel under BNC operation safe. Receiving the award for the 3rd time was a privilege—this drives us to continuously improve and strengthen the value of safety in everything we do," he added.
Mr. Sajot said that receiving award will not stop them to continuously improve, "because there are many things that still need to be done to ensure that everyone working under our operations will go home to their family safe and complete at the end of the day," adding that the "challenge of changing behavior is a long process and we wanted that to be in place."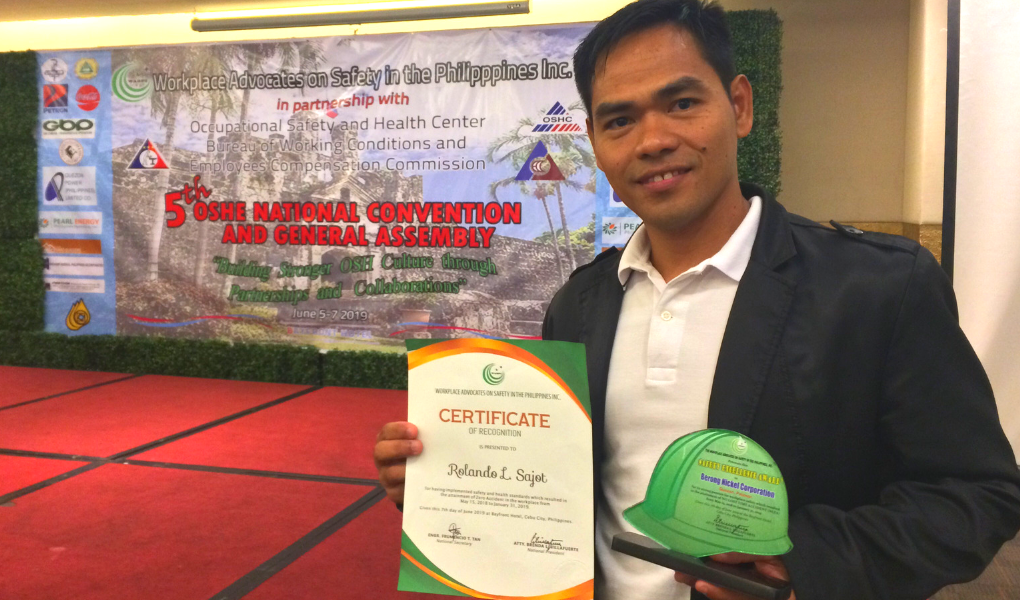 Organized by the Workplace Advocates on Safety in the Philippines Incorporated in partnership with Occupational and Health Center, Bureau of Working Conditions and the Employees Compensation Commission, the event was attended by various companies nationwide ranging from oil and gas, mining, construction, service and manufacturing sectors.
"To BNC family and to all our contractors congratulations to us for a job well done, let's keep our head up because we've done the greatest responsibility that was tasked to us – making everyone safe while working," Mr. Sajot said.
"This award fuels my passion to go beyond what needs to be done in order to ensure that safety is number one in our day to day operation. To the WASPI organization we thank you for recognition and award," he concluded.
BNC is based in Berong, Quezon, Palawan and has been a recipient of various awards. Last year, it earned a certification on Environmental Management System or ISO 14001.