Last Updated on
A place surrounded by large, towering trees, myriad of colorful flowers and ornamental plants blended with soothing breeze that energizes wearied souls, Cacaoyan Forest Park Restaurant is a perfect getaway for everyone, especially among the nature lovers.
With its Bali-inspired features, the park has unique amenities. It is brimmed with arts, paintings, artifacts and of course, tree pods—perfect for photo shoots and Instagrammable selfies, plus a playground for the kids, and a restaurant serving different affordable superb menu.
Cacaoyan Forest Park is situated at Sitio Sabang, Barangay Cabayugan, approximately around 4 minutes away by car or 2.5 kilometers from the Sabang Boat Terminal. And it can be easily spotted as it is just located on the roadside with its signage welcoming the visitors.
"Kung naghahanap kayo ng lugar na mapapasyalan, makakapag-relax and to be close to the nature, feel free to come here," said Mr. Ceasar Sammy Magbanua, one of the co-owners of the Cacaoyan Forest Park.
Having a rich biodiversity, the forest park has been reportedly spotted with rare Malaysian bird and other migratory birds, monkeys, and other wildlife animals. There is also a century old called Dao Tree, which, having a great picturesque view, is being frequented by photographers to capture prenuptial videos and photos.
The park advocates not only the preservation of nature, but it also showcases the artworks of local artists embedded across the park and the restaurant. It is purely magical seeing artworks embedded with the nature where some trees are clothed with artistry and colors.
The first in Palawan, the human bird's nest or also known as tree pods captivate the visitors, which were constructed by the locals. At the moment, there were two pods and more are being constructed to accommodate the growing number of visitors. It has also a round bird's nest, which is another perfect spot for selfie or groupie.
Soon, Cacaoyan Forest Park and Restaurant will have glamping (glamourized camping) with more facilities are being added.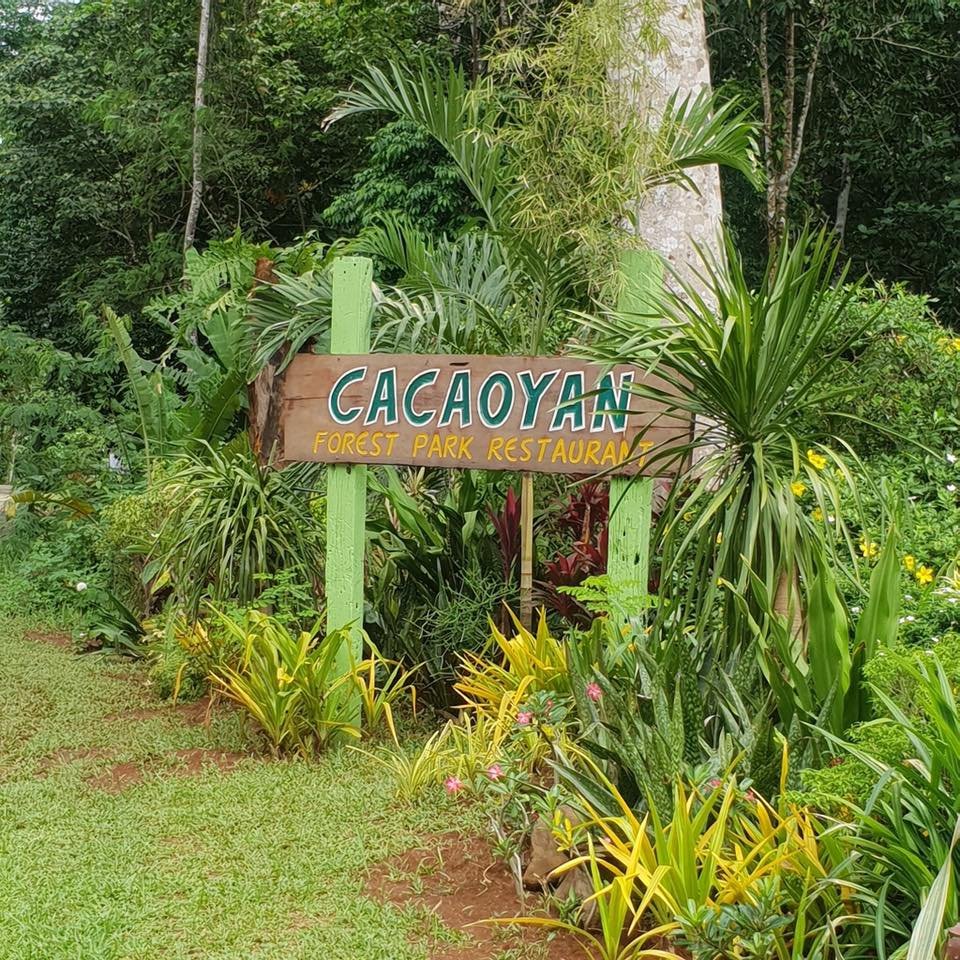 "In behalf of our partners, we would like to invite everyone to try and experience Cacaoyan Forest Park and Restaurant. Savor the colors and flavors and experience the nature. You can be with the nature here, you can dine here, relax with a comfortable ambience. You can take your time here, do bird watching, you can do archery, and your pictures taken in the Bali-inspired installation. Just to be close to the nature," Mr. Magbanua added.
The restaurant is open from Monday to Sunday, 7 in the morning up to 5 in the afternoon, but eventually they will be receiving dinner reservation. They can be reached through their Facebook Page, https://www.facebook.com/CacaoyanForestParkRestaurant.
If you want to experience paradise, don't forget to come and visit Cacaoyan Forest Park and Restaurant. True enough in its tagline, "Savor the colors and flavors. Experience the magic of nature. Truly one of a kind," the park is genuinely captivating with an enchanting blend of nature.