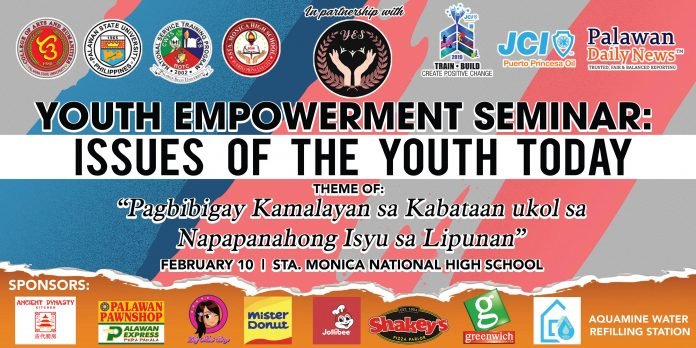 Pressing issues concerning the youth today are to be discussed in a Youth Empowerment Seminar (Y.E.S) that is slated to be conducted this Sunday, 10th of February 2019.
With the theme, "Pagbibigay Kamalayan sa Kabataan Ukol sa Napapanahong Isyu sa Lipunan," the Y.E.S.: Issues of the Youth Today will cater important topics on Child Abuse and Children In Conflict with the Law, which are just appropriate and timely since today's youth faces innumerable concerns that need to be addressed at the grassroots' level.
Organizers invited resource speakers that will share their expertise on these hot issues. To sustain the training and workshop, motivational speaking and open forum with participants are added.
The event is being organized by the Palawan State University – College of Arts and Humanities, PSU – NSTP (National Training Services Program) in partnership with JCI Puerto Princesa Oil and Sta. Monica National High School together with partners and being supported by Palawan Daily News.
The Youth Empowerment Seminar is aligned to the JCI Philippines's National Training Month this February 2019. This is the time of the year that members engage in workshops and attend training sessions that hone leadership skills and maximize talents to provide development opportunities for others.
Students from the PSU-CAH, PSU-NST, senior high, and parents of Sta Monica National High School, and JCI Puerto Princesa Oil members were invited to attend, be heard and participate in the said seminar-workshop from 8 am to 12 noon this coming Sunday, 10th of February at the Gymnasium of Sta. Monica National High School along Sta. Monica Highway, Puerto Princesa City.
This seminar-workshop aims for train the youth, build and improve relationship with parents and peers on how to become better and active citizens in the community. As for JCI, it seeks to strengthen, enhance and empower its members and youth as agents of change guided by the JCI values.