The Palawan Council for Sustainable Development (PCSD) together with other organizations published the Palawan Pangolin (Manis culionensis) Conservation Strategy 2018-2045, in an effort to protect one of the most heavily trafficked species in Palawan.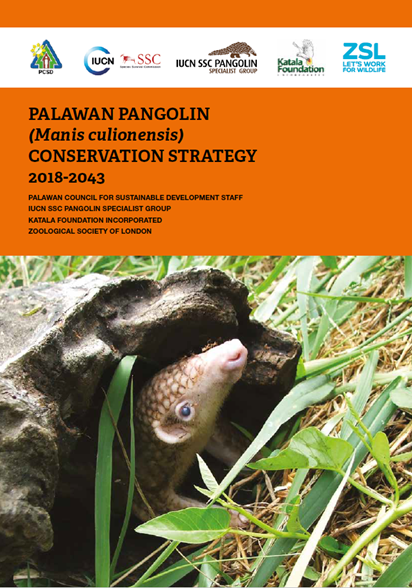 The 25-year Conservation Strategy was published by the PCSD in collaboration with the International Union for Conservation of Nature (IUCN) SSC Pangolin Specialist Group, Katala Foundation Inc., and Zoological Society of London (ZSL) through the Mohammed bin Zayed Species Conservation Fund.
Also locally known as balintong, the Palawan Pangolin is a species endemic to the province inhabiting four islands including mainland Palawan and Culion. The Critically Endangered animal's, base on the IUCN Red List of Threatened Species, habitat includes primary and secondary forests as well as surrounding grasslands.
The Palawan pangolin, moderately common within its limited range, has become the most heavily trafficked species in Palawan. And the sharp decline of its population has been caused mainly by Illegal trading of its valued meat and scales, and habitat loss due to human activities.
The PCSD said that the next 25 years is crucial in the advocacy for the conservation of Palawan pangolin.
The published work identified the towns of Taytay and Roxas with buying stations of pangolin, based on key informants specifically local hunters. It was also reported that the villages of Dumarao, Sandoval, Mendoza, and Magara in Roxas and Cayapas in Dumaran were involved in the illegal pangolin trade during 1980s.
Common confiscations of pangolin trade are shipments carrying both pangolins and various sea turtle species. And since 2018, authorities have been intercepting shipments consisting solely of pangolin parts.
In July of 2018, authorities have seized a truckload of frozen pangolin meat from Roxas bound for Puerto Princesa City. And In 2019, law enforcement agencies and other authorities in Puerto Princesa City made the largest confiscation of pangolin scales which is more than 1,000 kilograms or is approximated to be from around 4,000 pangolins.
From 2018 to 2019 alone, authorities seized 6,894 live Palawan pangolins, based on a report released by wildlife trade monitoring group TRAFFIC. The figure is alarming because there are no clear estimates for the remaining pangolin population in the wild.
Demand from the neighboring Asian countries contributed to the increase in the illegal pangolin trade. And smuggling has found its way to various destinations specifically in Kudat and Sandakan in Sabah, Malaysia and other nearby countries such as China.
Primary and secondary forests, the pangolin's natural habitat, are among the most threatened ecosystems in Palawan said, Dr Sabine Schoppe. Manager of Palawan Pangolin Conservation Program of the Katala Foundation Inc.
The published 25-year Conservation Strategy pointed out the conversion of forest, encroachment and land grabbing among pressing concerns that aggravate the destruction of our natural forests.
"The drivers of habitat loss include the conversion of forest to other uses including mining, settlements, plantations and infrastructure, as well as land grabbing and encroachment. ECAN zones are changed to accommodate new development projects and consequently the land grabbing often occurs," the published work reads.
The strategies presented include but are not limited to the following: establishment and management of wildlife database in Palawan, design and implementation of conservation financing mechanism, use the funding to manage identified Key Biodiversity Areas (KBAs) for pangolin, research to identify existing and potential pangolin habitats, research on online pangolin trade, creation of permanent wildlife enforcement position in concerned government agencies, increase the profile of wildlife crime, locally and nationally through traditional and social media outlets, develop behavior change campaign, identify and train researchers to study pangolin and their threats, develop citizens science protocol for pangolin monitoring, among other strategies.
With the 25-year conservation effort to protect Palawan pangolin, an increase of their number in the wild is expected while a full-blown behavior change campaign to convince the public to help save and protect these gentle mammals will contribute to further safeguard them from illicit trade.