The Palawan Council for Sustainable Development (PCSD), the lead agency in implementing "Wildlife Act" in Palawan, warned the public that harvesting and trading of giant claims (Tridacna spp.) is illegal. This amidst circulating information that it is already allowed by the authorities.
Jovic Fabello, spokesperson of PCSD, in a recent one-on-one interview with Palawan Daily News' "Boses Ng Palawan" host Jay Zabanal, explained that both the "Wildlife Resources Conservation and Protection Act" and the "Fisheries Code of the Philippines" prohibit gathering, harvesting, collecting and trading giant clams, locally known as Taklobo.
"Ayon sa Wildlife Act, mahigpit pong ipinagbabawal, under Section 27 ng [nasabing] batas, ang pagkolekta, pag-trade, pangangalakal, pananakit, o anumang klaseng aktibidades patungkol sa mga wildlife species, lalong-lalo na ito (mga taklobo) na endangered species," Fabello added.
ILLEGAL TRADERS USE BFAR-NATIONAL MEMO
Fabello explained that illegal traders of Tridacna wrongfully used the Memorandum released by BFAR national office last month as their basis for collecting and buying giant clams.
"Ang nangyari kasi riyan, lumakas 'yong loob nitong mga iligal [na nagha-harvest ng] taklobo kasi mayroong nilabas 'yong BFAR, ito ay isang Memorandum, dated March 23, 2021, naka-address sa regional directors ng BFAR, galing ito kay Comm. Eduardo Gongona, PCG ret. BFAR National Director. Ang title, 'Advisory regarding the concern of the Regional Offices on excavation/collection of giant clams," he said.
Fabello read the content of the document which he said, is relative to the reported tons of fossilized giant clams recently recovered by the government authorities in several provinces which had been placed in the custody of BFAR-Provincial Fishery Offices all over the country.
The giant clams, the biggest bottom-dwelling bivalve mollusks in the world, are now threatened species according to the International Union for Conservation of Nature (IUCN) and likewise listed in Appendix II of the Convention on International Trade in Endangered Species (CITES).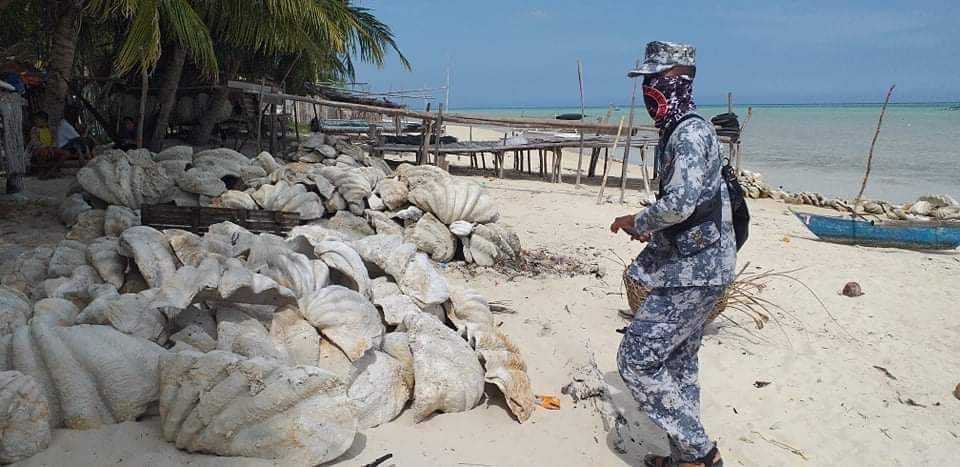 UNLAWFUL ACTS
In the said memorandum, the BFAR national director cites that Section 102 (b) of RA 8550 o "Fisheries Code" as amended by RA 10654, states that it is unlawful for anyone to catch, gather, capture, collect, trade, buy, owned, transport, and export of aquatic species listed under Appendix II and III of CITES if the scientific assessments shows that population will face the risk of extinction if harvest in the wild continues.
It also says that Rule 102.1 of the implementing rules and regulations (IRR) of RA 10654 states that the above-mentioned Section applies to all parts and derivatives of the species such as the Tridacna spp.
CONFUSING PART?
PCSD pointed out the "confusing part" of the Memorandum saying "Based on the Technical Working Group discussions, an Inventory Team created to conduct the inventory and documentation of the confiscated shells or giant clams in the Regional Offices and those that are stockpiled in the warehouses across the country. Hence, all are advised not to conduct any search and apprehension pending the result thereof."
"Itong binasa ko, nagki-create ito ng confusion sa mga nag-iiligal ng taklobo. Lumakas ang loob nila na manguha [ng taklobo]. Dito naging mali sa Memorandum na ito kaya openly, namimili na sila! Ang sinasabi nga nila, 'May umiikot nang taga-BFAR kaya lilinisin na namin para kung anong mangyaring maganda, pwede na naming i-trade o i-transport'—but hindi 'yon kasi. Itong letter na ginagamit nila, nadadamay din 'yong PCSD, [at sinasabi nilang] pumayag na 'yong BFAR," he exclaimed.
But BFAR national clearly directs all the regional offices "not to issue transboundary transport permit for these species and their derivatives during the period of inventory."
PCSD's NOTICE TO THE PUBLIC
It can be recalled that last April 13, the PCSD immediately released an advisory for Palaweños as a response to some reports "that a certain group of individuals is disseminating false information that the collection and trade of giant clams is now being allowed by virtue of an order or a memorandum issued by the PCSD and the Bureau of Fisheries and Aquatic Resources (BFAR)."
The Council clarifies that there is no such order or memorandum issued by the PCSD and BFAR and encouraged everyone instead to report to them any suspicious activities involving wildlife.
"We would like to remind everyone that the illegal collection and trade with wildlife is punishable under Republic Act No. 9147 (Wildlife Resources Conservation and Protection Act), and that we are persistently working to prevent the same in Palawan," the advisory reads.
On the other hand, PCSD Staff Executive Director TJ Matta personally appealed to the public to protect the wildlife.
"This is very urgent: since last year there have been attempts to smuggle giant clam shells out of the country. However, because of the joint efforts of PNP-MG, PNP, AFP, PCG, and PCSD, most of these shells (taklobo) have been confiscated.  However, the damage is already being done. These beautiful and precious creations are being slaughtered because of human greed," he told to Palawan Daily News thru a chat message.
He added that the perpetrators are unscrupulously using the name of BFAR and PCSD — claiming they have the authority to collect and trade. He said that this is not true because their agency has been working round the clock to stop the perpetrators.
"Please inform all your friends and family- COLLECTING AND TRADING GIANT CLAM SHELLS IS PROHIBITED. Help stop this illegal trade. This is our responsibility for our province and our children. SAVE OUR TAKLOBO!!!" Matta's appeal to everyone.
He even shared to PDN of some of his giant clam photos during his trip in San Vicente this month of April and called them "precious life forms" that takes decades to grow.
INFORMATION FROM CONCERN CITIZENS
Meanwhile, as early as April 8, some concerned citizens from the Municipality of Roxas already informed PDN team that people in Green Island were surprised and excited because someone has promised them that authorities are now allowing the selling and buying of taklobo.
According to the sources, the main buyer will arrive there during the first week of May and will go around Palawan for the same purpose.
One of the sources likewise narrated that people behind it in Green Island even said that they will fight legally for they have complete papers from BFAR national and even dared to say that "PCSD has lower powers compared to BFAR and DENR" that gave them authorities to engage in giant clam trade.
The source divulged that price for taklobo ranges from P3,000 up to P3,500 if being sold to the main buyer. But according to Barangay Councilor Bobot Argonzola of Brgy. Tumarbong, prices will start at P5,000 up to P15,000. He said that as of press time, open trading has stopped but secret harvesting still exists.
"Panay rin ang payo namin na bawal ang mangolekta [ng mga taklobo]. Pero sa laki kasi ng price kaya hirap pigilan [na hindi maengganyo ang mga tao]," Argonzola added.
"May mga nagsasabi kasi na mga runner ['yan sila] ng mga kumpanya kuno na s'yang nangumbinsi sa mga tao para manguha ng taklobo kasi talagang mahal ang price. Kaya marami rito ang nakumbinsi para mangolekta," he added.
As of press time, the PCSD Staff, the implementing arm of the PCSD, disclosed to Palawan Daily News the names of the persons involved in the said giant clam trade. Executive Director Matta said that they asked PCSD for an appointment this morning and the Staff asked them to bring all their authority.
He also shared to PDN that PCSD resolved yesterday "for a complete ban on Taklobo gathering" and they will publish it once signed.