Last Updated on

The residents including the business owners in Brgy. Cabayugan here in Puerto Princesa will see the coming Christmas in the clear and lighted path, as Sabang Renewable Energy Corporation (SREC) formally inaugurated its 2.6-megawatt Solar Power Farm last November 7 in Purok Old Centro, where the world-famous Puerto Princesa Underground River is located.
The hybrid power plant that combines Solar panels, batteries, and diesel engines is a consortium between Vivant Energy Corporation, Gigawatt Power Inc and WEnergy Global. It is the first mini-grid system that started online operations as early as August 21 of this year. The consortium already energized 308 households including 10 public buildings and 18 small businesses, 19 hotels and restaurants.
SRECs electricity rate is P12 per kilowatt-hour for all residential and government institutions while the commercial rate is at P15 per kilowatt-hour.
Ongoing completion is 121 households in the coming days in preparation for the coming Christmas season. There are 794 residential households in total for the whole community of Cabayugan.
The project cost P450 million, P300 million of which was loaned from the Development Bank Of the Philippines (DBP).
It took 7 years for them complete and finish it. SREC is a Qualified Third Party (QTP) operator allowed by the Department of Energy and the Energy Regulatory Commission through a 20-year waiver by the Palawan Electric Cooperative (PALECO).
Present during the inauguration was Senator Sherwin Gatchalian, Chairman on the Committee on Energy, Department of Energy Secretary Alfonso Cusi, City Mayor Lucilo Bayron, PALECO Chairman Jeffrey Tan-Endriga, and DBP Executive Vice President Jose Gabino-Dimayuga, Cabayugan Cpt. Rolly Francia.
Sen. Gatchalian said he was impressed to witness its inauguration and he believes that the hybrid power plant should be replicated to power the whole island of Palawan, saying it is a great move to maintain the province's tagline as the last frontier.
"This type of technology is perfect for Palawan. I have a lot of friends in Palawan, and the Palawenos are most environmentally loving people here in our country. We consider Palawan as our last frontier and being a last frontier we should embrace cleaner forms of electricity, and cleaner forms of power should be set up in this island," Gatchalian said.
Sec. Cusi, on other hand, believes that QTP should be empowered and encouraged as it is a great help to the current administration in energizing the remaining 2 million households who are still living in the dark.
"I'd like to congratulate WEnergy for putting this microgrid in the area. These are QTP program of the government. We're changing the rules on QTP; we would like more investors on QTP. There are already three QTP operators that we have licensed, and we want more QTP operators, because QTP operators would be able to help us energize all the household in the country."
Mayor Bayron is very happy with this development, saying that his people in Cabayugan are long waiting for this to happen. And what happened in this inauguration is an answered prayer and a big Christmas gift as he challenged SREC to hopefully include two remaining barangays near Cabayugan to be energized.
"I'm so happy that finally we are going to inaugurate the Sabang Renewable Energy corporation, hybrid solar farm, the first in the country and in the City of Puerto Princesa. It was a long 7 years waiting, but now they are already connecting electricity to the customers here in Brgy. Cabayugan, and maybe in the near future starting from Brgy. Tagabinet, and Buenavista. This will be another feather in our cap," Bayron said.
7 years in the making
Executives of SREC shared that all the hardships they went through in putting up the solar power plant,. They openly criticized the government institutions that prolonged their agony for 7 years, in order to be fully issued permits and get all the go signal.
Even Sen. Gatchalian expressed dismay on this system and promised to look into this to help future QTP's to be given easy processing all the needed requirements. Even Sec, Cusi and Mayor Bayron were all praises for SREC in not giving up to help Cabayugan having a bright future because of electricity.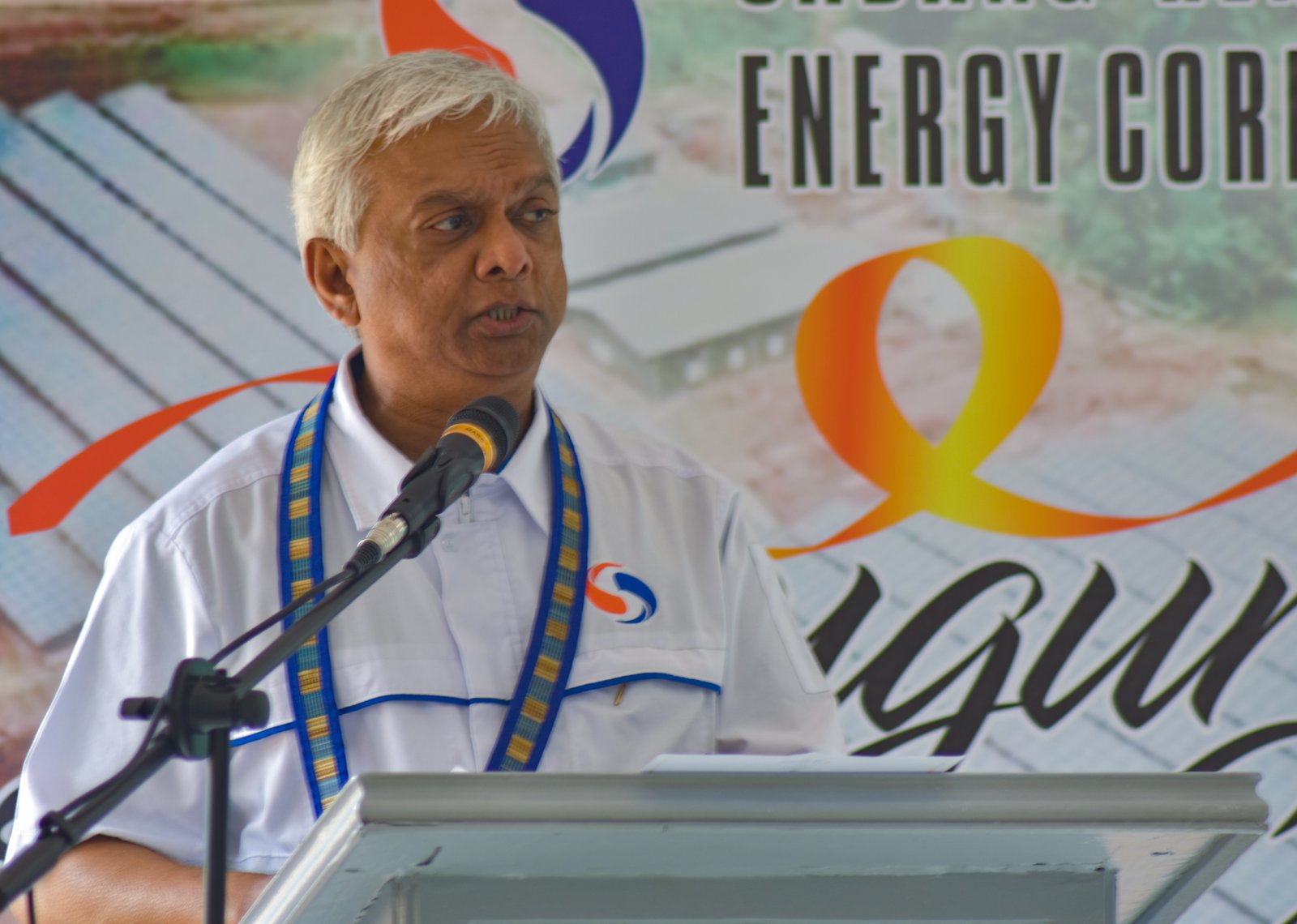 "NAPOCOR took 9 months, while that work can be done probably in 8 weeks, ERC (Energy Regulatory Commission) took full 4 years between petition submission and public hearing, after 2015 we never heard anything back, and it was in 2017 that a decision was taken, which was not a correct decision because it was about other configuration technologies, there was an error, in those 2 years our 400-page file was lost so we have to resubmit, I am telling you because we are not afraid for anybody out there to punish us later, because we believe what we do is good and we have to do that," Atem Ramsundersingh, Chief Executive Officer of WEnergy Global, and the Director for SREC said in closing.
SREC is expecting an 8 to 9 years return of investment for this project if it goes perfectly well.