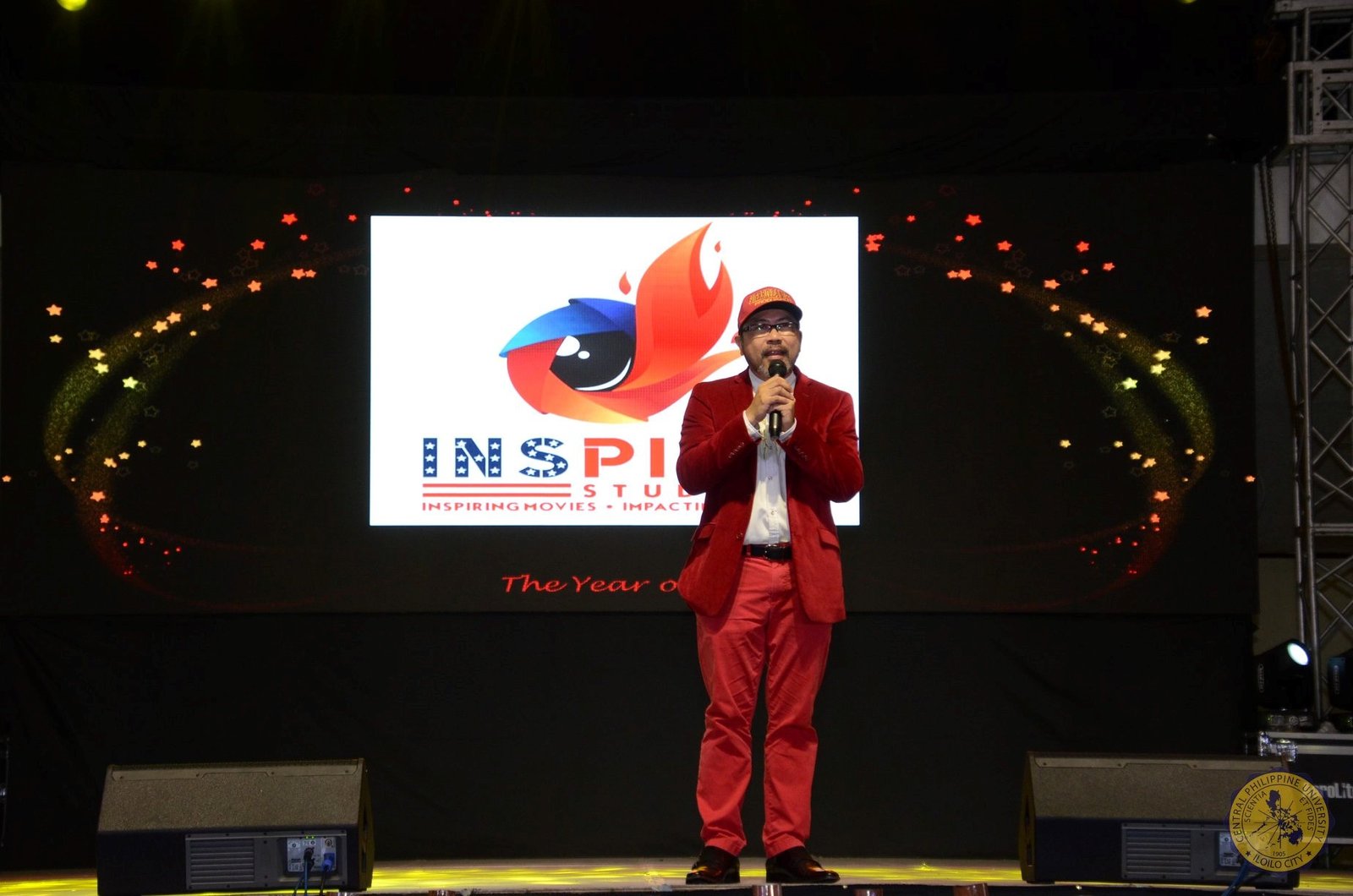 Francis Lara Ho, a Nursing graduate of CPU Batch 1994 is a multi-talented nurse whose passion includes art and business. After graduating from College, Francis decided to move to the United States and start a different life inspired by God. Shortly after his nursing career in the US, he established the Inspire Studios and became its own Chief Executive Officer.
Francis currently is in the US for the development and pre-production of his upcoming Hollywood Film "Freedom Fighters." The movie was inspired by Louise R. Spencer's book entitled "Guerilla Wife."  The movie will also feature the story of the American missionaries who were killed in Hopevale during the World War II. The film is expected to be shown in theaters on December 2021. On February 5, 2020, during the opening night of the CPU Grand Alumni Homecoming, Francis together with Cesar Montano, promoted the upcoming film to the delight of the Centralians and other Filipinos.
He said that the 50-Million Dollar film "reflects the sacrifices of ordinary people in Tapaz, Capiz, and also of the American Missionaries." "The martyrdom of the Hopevale missionaries helped General MacArthur fulfill his promise able to return to the Philippines," Francis said.
Among the Filipino cast of characters is Cesar Montano who will portray Rev. Delfin Dianala. Senator Manny Pacquiao, who is co-producer of the film, will play the role of Col. Macario Peralta.
A Testimony of Faith and Favor
An epiphany – a dazed sunrise peaks as an orchestration of sound and sight reveals the beauty of the university campus, footsteps and conversations about life, love and study echo the air, it is another dawn at Central.
For Francis Lara Ho such a display is credited to the faithfulness of God and His abundant grace. A graduate of the CPU College of Nursing in 1994, much of Ho's life is grounded in his commitment to serve God and share His gospel to the four corners of the world.
His testimony is one of unwavering faith and overwhelming favor.
A nurse, missionary and businessman, Francis shares that his faith as a believer flourished during his stay as a student in CPU. "Here in CPU my faith grew. I was a believer before I came [to CPU] but when I came here it was like being planted in a garden where it is so fertile – and so here, my roots got deeper, my trunk got stronger, my branches grew a lot of fruits that allowed me to weather the storms of life."
Coming back to CPU was a powerful experience for Francis, his purpose was not only to re-visit memories of the campus but to research and gather information for a production of a movie based on the lives of the Hopevale martyrs. "We want to produce the very powerful story [of the Hopevale martyrs]. [Visiting the site where the martyrs died] I did not expect to shed a few tears – it was sacred ground to put yourself in the position of the missionaries where they bled and died and because of that we're [left] with inspired and transformed hearts."
As for his experience in the ministry, Francis has served as missionary in the countries of China, the Middle East, the United States and many others. Although the journey was not easy, he shares that God has been continually faithful in providing him strength and perseverance to uphold the gospel.  "I left Iloilo with God's promise that He will provide and strengthen and [He never failed me]." Francis encourages his fellow Ilonggos to walk with God and to pursue His will and purpose. I'm not that old; I've seen the world; I've been to many countries; I worked as a missionary, a nurse and a businessman and it all boils down to one thing – your relationship with God, nothing else matters. Impact people's lives by inspiring them with your life, impact them for Christ.
Biography
Francis is born in the Philippines famous City of Love, Iloilo City. His father, Antonio L. Ho was both a businessman and a statesman. His mother, Nenita L. Balaran was a teacher. Francis was raised and trained in a Filipino-Chinese family of entrepreneurs, military, educators, and politicians. He first ventured as an entrepreneur in the United States in 2011 and was honored as one of the top entrepreneurs in Forbes Magazine (Nov 2013) and in Fortune Magazine (July 2016).
In 2018, Francis pioneered Inspire Studios in California, USA with the compelling vision of winning the first Oscars for the Philippines. His ultimate mission is to uplift and transform the international image of the Filipino by producing history-in-the-making Hollywood-Philippines global-audience, worldwide-release movies based on incredibly inspiring true to life stories of ordinary people who lived extraordinary lives. Currently, Inspire Studios has 4 pioneering movies in the slate namely: Freedom Fighters, Palawan: Last Man Out, The Rescue, and Open Doors.
Freedom Fighters (2021) is co-produced with global boxing icon and Philippine senator Emmanuel "Manny" Pacquiao. It is the first ever Hollywood-Philippines produced global release movie. Inspired by the true stories of American mining engineers, missionary doctor, and nurses who helped the Philippine resistance movement in their fight against the Japanese Imperial Forces during World War II.
Palawan: Last Man Out (2021), is the unknown but incredible true story of American POWs and Palawan Special Bolo Battalion who fought the Japanese occupying forces during World War II. Open Doors (2022) is the powerful inspirational true stories of the Eastern European Jewish families' journey to the Philippines escaping the Nazi Holocaust during World War II. The Rescue (2022) is the amazing true story of the young Filipino Scout Ranger's rescue of American missionary Gracia Burnham from the hands of the global terrorist organization Abu Sayyaf Group linked with Osama Bin Ladin.
In addition to film-making, Francis has also been equally passionate about helping others and has served with a non-profit organization that provides services to meet the holistic needs of the neediest in the Philippines and around the world. In 2003, he and his wife, Janelyne "Jing" Yu-Ho from Palawan, migrated to the United States and has pursued graduate degrees. Francis obtained a master's degree in leadership from Biola University in Southern California where he graduated with Highest Honors. He also started his PhD program at Biola University but put it on hold to focus and ensure his success in film-making.