To promote small businesses and patronise local products, Puerto Princesa City Chamber of Commerce and Industry, Inc. (PPCCI) relaunched its project "Barakalan ig Tarabiangan sa Banoa" on Sunday, November 15, 2020.
"Barakalan ig Tarabiangan sa Banoa," translated from Cuyonon, means marketplace and helping together in the community.
This year's theme for Barakalan is "Tulong-Tulong sa Pagbangon," which emphasized the call to help local businesses which have been affected by the difficulties brought by the pandemic.
According to Jane Timbancaya-Urbanek, Executive Board Member of PPCCI, the said project, which started two years ago, aims to empower micro, small, and medium-scale enterprises (MSMEs) and help them in making their business bigger and more successful.
"The Chamber believes that the growing community of small businesspeople, together, could play a major role in helping our city achieve the kind of development which is sustainable and inclusive," she said in her Facebook post, promoting the project.
The said project kicked off on Sunday, featuring a marketplace that catered to the shopping and other needs of locals from Puerto Princesa and neighboring municipalities in Palawan.
Various products and services from 74 local businesses such as ready-to-eat food, food preserves, farmers' products, handicrafts, art works, and plants for the "plantitos and plantitas" are available at Barakalan.
"This is a chance for merchants, especially for our farmers, to sell their produce and directly make profit, and not with the traders so there will be no disparity sa price," Melissa Macasaet, City Agricultural Officer and head of Puerto Princesa Kadiwa Producers' Market booth in Barakalan, said.
The project, supported by the City Government of Puerto Princesa and the Department of Trade and Industry, will take place until November 30, 2020 for its first phase.
According to Engr. Jusette A. Cortes, PPCCI President, the event is originally scheduled for a whole month, but they are still testing the waters whether the event will be sustained and pushed through its second phase until December 15, considering COVID-19 concerns and the availability of merchants and their produce.
As of writing, Puerto Princesans, especially youth and millennials who want to try good food and shop local products, have started to flock the venue while enjoying music from a live band.
Locals are being encouraged to visit the project at the Coliseum Park, which is open from 4:00 pm to 9:00 pm.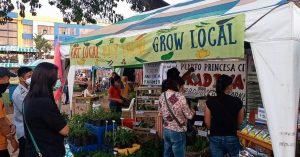 SUPPORT LOCAL. The Puerto Princesa Kadiwa Producers' Market Booth with their slogan "Eat Local. Buy Local. Grow Local," showcases products of farmers from different barangays in the city. Melissa Macasaet, City Agricultural Officer (in black, left-most) said that products here are cheaper and fresher compared in the public market.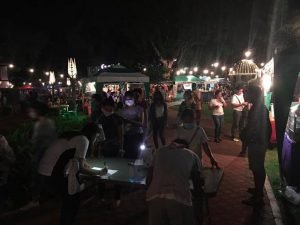 ENSURING SAFETY. Abiding with IATF health and safety protocols, "Barakalan" requires visitors to sign their names in logbooks before entering the Coliseum Park. Social distancing and wearing of face masks are observed.