Binhi Dialogues
is a series of important discussions about the environmental and societal challenges we confront, along with sustainable solutions that prioritize the people and the planet.
To commence the launch of Binhi Dialogues, Binhi invited
Lokalpedia
to talk about Palawan Wild Crops last Sunday, August 20, 2023.
Lokalpedia, a portmanteau of "lokal" and "encyclopedia," is aimed at raising awareness and showcasing endangered, artisanal, heirloom, and non-mass-produced Philippine ingredients and food items.
Handled by John Sherwin Felix, he travels around the country to document Philippine food biodiversity and food heritage. Felix was invited by Binhi to share his insights on Palawan's wild crops, stemming from forest exploration, market visits, and conversations with locals.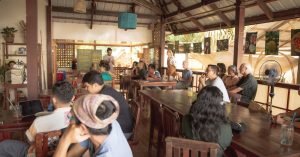 "Palawan, renowned for its breathtaking beaches, also holds the distinction of being one of the world's most biodiverse regions," Felix shares. "Beyond its stunning coastlines, this Philippine gem boasts a rich variety of edible and distinctive flora, including a diverse array of fruits. Among these are both indigenous and naturalized species, some of which are seasonal while others thrive year-round."
"While local farmers and indigenous communities have cherished this knowledge for generations, these fruits often remain unfamiliar to those beyond the region. Regrettably, many of these treasures remain underutilized and overshadowed. Moreover, numerous Palawan species face threats stemming from habitat degradation due to destructive mining, coal plants, and large-scale monocropping by mega-corporations."
Felix said that these fruits "serve as a testament to the significance of preserving Palawan's primary forests while safeguarding ecological balance and the rights of indigenous people. "
Felix's presentation revealed more than 20 fruits that can be found in Palawan, most of which are native to the island. Some of these fruits are so rare and not known to the eyes of many but Felix's advocacy helps spread awareness about these endemic crops and what we can do to save them.
"I'm still amazed that there is still a place in the Philippines where fruit stalls don't have apples and oranges, but rather true local fruits. I will miss this," Felix shares.
He also implied that as opposed to Davao, Palawan should be the fruit basket of the Philippines, "You can find the fruits that Davao has in Palawan, but you won't find the fruits that Palawan has in Davao."
His presentation sparked conversations about seed saving, the importance of biodiversity, the threats our environment is facing, and what we can do to be part of the solution. Following Felix's presentation was a photo exhibit, tasting of fruits gathered and shared by Felix and Binhi, and seed exchange.
The dialogue served as a starting point for the continuous work around the awareness and preservation of these crops, especially those that are endangered.
Binhi Dialogues serves as a pivotal platform for essential discussions and sustainable solutions.
The event was attended by farmers, chefs, foodies, social enterprises, and various non-government organizations.
The event was made possible by Palgraphix, Kusina ni Tito Ernie, Binhi Mindful Market, and Lokalpedia.