BATANGAS CITY, OCTOBER 28 – With its mission to connect the Philippine Islands to neighbouring countries, ARCHIPELAGO Philippine Ferries Corporation (APFC) Inagurated its brand new state of the art vessel, FastCat M15.
Compared to its existing vessels, the FastCat M15 has upgraded amenities, new facilties, newer navigational system, higher horse power, and with a capacity of carrying 34-40 cars, 7-8 trucks or buses with 360 seating capacity for passegers.
FastCat also introduced the new route from Batangas to Coron, Coron to El Nido and vice versa but it is yet to announce the schedules and fare for the route.
FastCat currently has 12 vessels plying 9 routes nationwide:
Batangas – Calapan
Bulalacao – Caticlan
Iloilo – Bacolod
Dumagete – Dapitan
Cebu – Tubigon
San Carlos – Toledo
Matnog – Dapdap
Matnog – San Isidro
Liloan – Lipata
The 13th vessel FastCat M15 will serve as addition to the routes of Batangas to Calapan.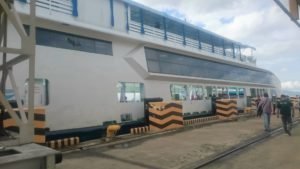 APFC President and CEO Mr. Christopher S. Pastrana announced that the route from Mindoro to Coron and El Nido will have a schedule of 3 times to 4 times a week and would open before the December holidays.
"We want to open the route hopefully before December, tinatapos na lang ang kalye sa Coron but the port is finished already both in El Nido and Coron," Pastrana said.
Mr. Pastrana added this will also help lessen the cost of the transportation of agricultural products from Mindoro to Palawan and vice versa with the help of the roll on, roll off system to give easier access and strengthen the trade between each province.
"Most of the goods ng northern Palawan for the tourism destinations come from Manila and Mindoro sinasakay sa paddle [boat] using this Roll-on, Roll-off system. Mas mapapdali ang access ng mga agricultural products ng Mindoro to Palawan, the same time yung produkto naman ng Palawan pwede dalhin all the way to Manila and Batangas using the Ro-Ro kasi four times a week ang biyahe the trade of Palawan and Mindoro will strengthen," he added.
FastCat is known for its unique vessel and is the first and only catamaran Roll-on / Roll-off (RO-RO) in the Philippines that was designed by Sea Transport Solution of Australia and certified and classed by the American Bureau of Shipping (ABS).