Palawan State University (PSU)
has a reason to celebrate as 40 of its recent graduates from the Electrical Engineering program under the College of Engineering, Architecture and Technology (CEAT) have successfully passed their recent licensure exams with an impressive 86.49% passing rate.
The graduates, who hail from different parts of Palawan, have proven their competency and excellence in the field of electrical engineering.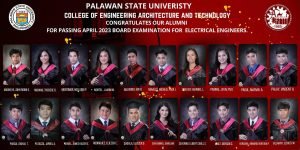 The exam, which was passed by 3,339 out of 5,771 candidates, covered various topics such as electrical circuits, power systems, and electronics. Only those who demonstrated their proficiency in these areas were able to pass, and the PSU graduates were among the top of them.
The university's Electrical Engineering program is known for its comprehensive curriculum and rigorous training, which prepares students for the challenges of the real world. With the recent success of its graduates, the program has further solidified its reputation as one of the top electrical engineering programs in the country.
The PSU community is proud of its graduates' achievement and is confident that they will make significant contributions to the field of electrical engineering.
The graduates are now poised to enter the workforce and make a positive impact on society, using their skills and knowledge to help address the challenges of our time.