On a beautiful Monday morning of December 26, 1977 Maria Cecilia Marcenas Robles was born. Some of her family members called her with a lot of different nicknames like Ceci, Maria, Cece, Maricel, & Cecilia. But her favorite nickname was Maricel. Her dad was a proud member of the Philippine Navy and her mom was a homemaker. Maricel, told PDN that her dad was in military service they moved around a lot from places to places because of his assignment due to his line of duty. She got to see many beautiful places in my Philippines until she ended up in Puerto Princesa City where she completed her high school year. She earned her Bachelor's degree in Environmental Science at Palawan State University on March 1999.
Maricel is a single mom. She raised her son by her own thru the help of her parents and her best friend who helped her a lot in terms of financial matters. She was very grateful for the people who helped her so much particularly her friend whom she calls Ate Ludy Bello. They worked together in the same radio station in Puerto Princesa City way back then.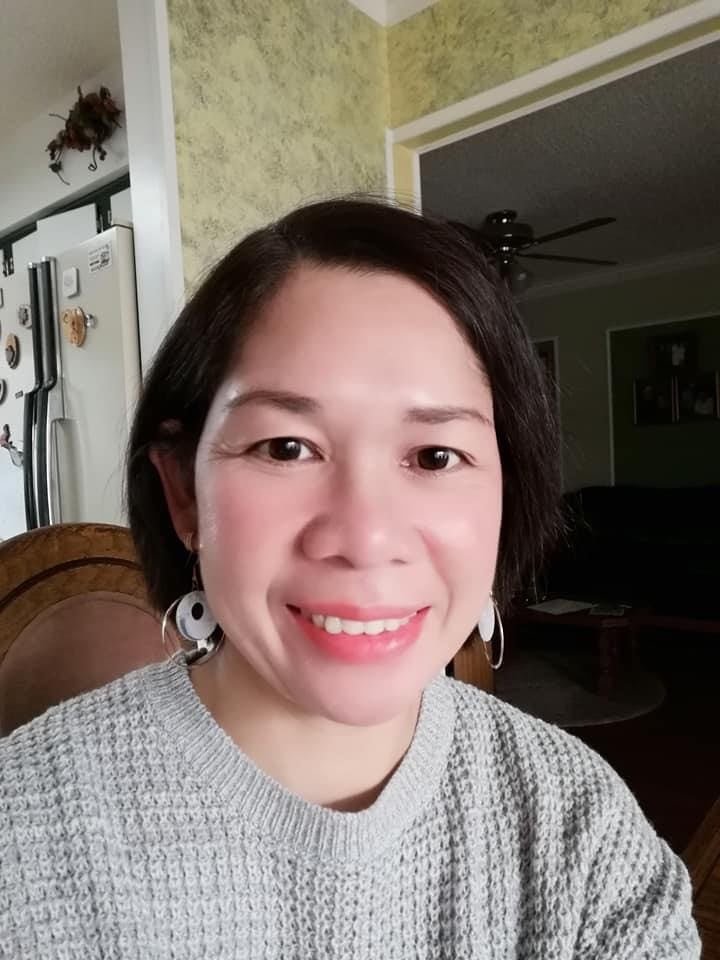 In March 2003 she became an OFW and went to Taiwan. Maricel, told PDN that she often worked double shifts in King Yuan Electronics Company Ltd to support the needs of her growing son that she left in the care of her own mother. She spent her nine years there as a quality controller. During her time in Taiwan, she was able to learn Mandarin, a Chinese language. When her job contract almost expires in Taiwan in 2013, she got a job opportunity to work in Canada. She applied first, then she was approved to work in the mushroom farm there.
She arrived in the province of Ontario in Canada in the same year. She started to work as a mushroom picker. With her hardwork, she was promoted as a Supervisor. Her work lasted for three years. Before her work permit ends at the farm that she was working with, they told her that they wasn't able to renew her working permit until she lost her status. Around May of 2016 after her end of job contract there is a good Samaritan who helped her to work as a Caregiver in the homecare setting for a couple of months. This woman is a KABABAYAN too named Jeannete Moskito. By working as a caregiver Maricel was able to earn and save money to pay for her plane ticket back to the Philippines. But before that, she received a letter from the Immigration of Canada that she have to leave immediately. She left Canada in despair with a little money and no savings at all.
Maricel, told me that she saw Canada as a place where she could raise her son and give him a good life.
Coming back to the Philippines was a bit sad experience but after seeing her family again after a lot of years, especially her son who had grown-up so much, her sadness was replaced by happiness and excitement. She decided that she was going to make the most of her time to taking good care of her son while she's in the Philippines. After then she took short courses to be a certified caregiver at the Palawan Adventist Hospital (PAH). She enjoyed her stay in the Philippines by then. While Maricel was in her caregiver course she was nominated as a class President. Being a President, Maricel chose a charity project, to help the residents of a nearby village in the mountains in Puerto Princesa City. Her heart was full of happiness because she was able to help in her own little way particularly the needs of the children of their beneficiaries. After six months of studying, she successfully completed the course.
A few months later, her boyfriend Roland, a Canadian Citizen came over and visited her in the Philippines. She was able to show him the beauty of the island of Palawan. When it was time for Roland to go back to Canada he made a promise with her that he would return a year later to marry Maricel. After a year and one month later he finally married her. While waiting for her papers to return to Canada, she worked a few different jobs. She joined also in a Zumba together with her friend Ludy Bello and her daughter Honey Williams. Zumba helped her overcome her anxiety and depression.
If last year wasn't the best year for other people because of the pandemic, for Maricel, the year 2020 was the best time of the year for her because she got already her Permanent Residency (PR) from Canadian government. She was moved to a small town called Cranbrook, it is a city in the Southeast British Columbia, Canada located on the west side of the Kootenay River at its confluence with the St. Mary's River. When she arrived, she worked there as a housekeeper at the Prestige Hotel. It was very exhausting, then Covid hit, she was laid off after six weeks of working and adding to that, her mother had suffered a stroke in the Philippines. Her siblings could not afford to pay the bills but she was fortunate because the CANADA EMERGENCY RESPONSE BENEFIT or CERB Aid from the Canadian government allowed her to pay for her mom's hospital bill. On the summer time of 2020 she was able to go back from her hotel job, but she got another job at one of the Long Term Care facility in Cranbrook. She worked at homecare during the night and at the hotel during the day. Maricel said it was exhausting but she's glad she has work despite the pandemic. As the summer of 2020 came to an end she was able to quit the job at the hotel and work at Canadian Tire as a detailer. Being tire detailer she is the one responsible for managing supplies and equipment and managing its inventories daily. The job was well paid and she was very happy.
As per Maricel, "my life was full of challenges and excitement from working two jobs at the same time, but I feel very blessed and grateful and well compensated, because some people around the globe are still out of work due to this pandemic that the whole world experiencing right now, I was very lucky to have two jobs." LESSONS LEARNED: Never give up, always keep trying. One step at a time. Secondly, always give back and help other people particular the less fortunate one and be grateful. Thanks be to God.