Dogs in the streets are a regular sight all around Palawan. They wander the streets in search of food and shelter, frequently injured and ill.
However, there is a dog sanctuary that is improving the lives of these furry pals.
The Street Dog Sanctuary, located in a secluded area on the outskirts of Barangay Port Barton in San Vicente town has been providing hope and a second life for abused, abandoned, and neglected dogs from different areas in Palawan.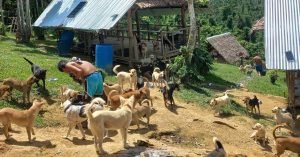 The sanctuary is run by a team of dedicated animal lovers, who work tirelessly to provide a loving and nurturing environment for their furry residents. From the moment a dog arrives at the Street Dog Sanctuary, they are given individual attention and care, ensuring they feel safe and loved.
Rob and Jacquelin Martin, an expat couple, started the animal rescue center in February 2021 but in December the same year, Typhoon Odette devastated it. The pair found a means to start over and open a new refuge because they were adamant that they would save dogs and provide them a better life.
The Martins are among the eleven animal enthusiasts who operate it. They all have a strong desire to rescue and assist the stray dogs in their neighborhood and other nearby towns like Taytay, Roxas, El Nido, and even in the city of Puerto Princesa. What began as a modest endeavor has developed into a thriving refuge that has helped many dogs.
Dogs who have been injured, mistreated, or abandoned can find refuge here. It is managed by a group of devoted volunteers who put forth endless effort to give the dogs under their care food, shelter, and medical attention.
The sanctuary has taken in around 183 animals since it first opened its doors, 167 of which are largely dogs or "aspins" of all ages, from young pups to older dogs, and 16 cats as well. While some of the dogs were saved from the streets, others had been dumped by their owners because they were unable to care for them.
To spread awareness about responsible pet ownership, spaying and neutering, and the value of treating animals with respect and compassion, they host workshops and other activities. The street dog refuge serves as a reminder of the enormous impact a small group of committed people can have on the world.
Numerous street canines have been given a second chance at life as a result of their commitment and labor of love.