UNESCO National Commission of the Philippines announced that Quezon, Palawan's Tabon Cave is "on the top of the list" of UNESCO World Heritage Sites.
"Tabon and Mt. Mantalingahan is on the top of the list for the proceedings because it was already on the tentative list of UNESCO World Heritage Sites; it was already placed by the Philippine Government. For the Tabon Cave, we already have the information. Kaya puwede na rin siya i-submit for the UNESCO nomination," Dr. Ivan Henares, Secretary-General of UNESCO National Commission of the Philippines, said.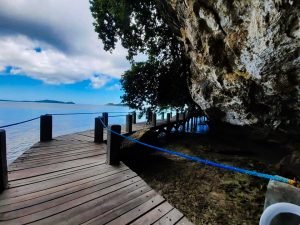 Henares announced this during a meeting with representatives from the National Commission for Culture and the Arts (NCCA), UP School of Archeology, National Museum of the Philippines, Palawan Council for Sustainable Development (PCSD), and officials of the Palawan government held on Monday, March 27, at the Palawan Provincial Hall.
Henares said that Palawan offers several potential heritage sites aside from Tabon Cave and Mt. Mantalingahan.
"Ang daming puwedeng World Heritage Site sa Palawan in which aside from Tabon, we have Mt. Mantalingahan, El Nido – Taytay, and Coron," Henares said.
He also proposed the addition of developing geo parks in the province.
"We will also be talking about geo parks as Palawan is already a Biosphere Reserved kaya ang dami pang UNESCO designation and puwede sa Palawan," Henares added.
World Heritage Sites, according to UNESCO, "must be of outstanding universal value," and meet at least one of ten (10) selection criteria. Criteria include representing "a masterpiece of human creative genius," and bearing "testimony to a cultural tradition or to a civilization which is living or which has disappeared."
The Tabon Caves, dubbed as the Philippines' "cradle of civilization" is where the country's oldest human bones, which are approximately 22,000-24,000 years old, were found in 1962.
From then on, over 1,500 burial jars and other artifacts from the Tabon Cave, including glass bracelets, were found and are now displayed at the Palawan Cultural Museum in Puerto Princesa.