Are you tired of all the ka-NEGAhan going around? Or if you want to "BE POSITIVE" This too has taken a scary meaning as the corona crisis continues.
That's why people all turn to looking for GOOD VIBES.
But what does it really mean and how is it important? Your vibes, or your "vibration" is a fancy way of describing your overall state of being. We were taught in basic quantum physics that anything and everything in our universe is energy.
Naturalist and raw vegan advocate Daniw Arrazola of Bahay Kalipay Retreat Center in Brgy. San Pedro, Puerto Princesa has been educating people in the past 12 years on the importance of increasing frequency to energize the mind, body and spirit.
Simply put, a person that "vibrates" in the higher range is healthy and positive, while going into lower vibrations means getting into a negative state (may be emotional or physical exhaustion, chronic diseases and the likes).
COVID-19 like any other virus has a very low vibration with a resonance frequency of around 5.5 to 14.5 hertz. The virus is observed that in the higher ranges, it cannot survive above 25.5 hertz. "We are all energy and vibration. If ang (body) flora mo ay healthy talaga, hindi ka naman basta kakapitan. Unless over-exposed ka sa mga lugar na mababa ang frequency (like hospitals). I learned na people with COVID who died ay nasa 5 hertz na lang, mababang-mababa na ang vibration."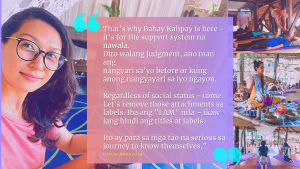 FINDING + KNOWING YOURSELF
It has been a painful yet liberating experience as Daniw tells how she transitioned from living in the lowest low to healing and self-discovery.
"Hindi ko na alam kung papaano ako gigising sa umaga. Everyday talaga pagmulat pa lang ng mata ko – para siyang naka program. 'Pag dumilat ako may luha ng lalabas. Gano'n siya ka negative. Ito na naman bagong umaga naman, ganito pa rin hindi pa rin nagbabago ang nafi-feel ko. Bakit kinakabahan pa rin ako, bakit malungkot pa rin ako. Wala na 'tong katapusan. Kung nandoon ka sa state na 'yun, anything na makakatulong sayo – gusto mong i-grab. Very vulnerable ka eh. Ayaw mo na sa stage na 'yon. Isipin mo kung mag-dadalawang taon ka na ganoon lagi ang ginagawa mo, 'di ba, mabuti na lang hindi ka na-buang. Masyado siyang malalim na nakakatakot na hindi ka magte-take ng chances and options to get cured."
 Being led to the Good Shepherd Convent in Tagaytay in 2007 was the turning point in Daniw's life.
 "Pagpunta ko sa mga madre, that was one way talaga na nakatulong. Sila ang unang nag-introduce sa akin ng yoga, meditation, vegetarianism, sila talaga 'yung nagsabi."
 The nuns paved the way in her pursuit of achieving mental clarity and seeing the next best steps for inner peace and resolution.
"Sabi ni Sister, upo ka diyan, half open ang eyes – looking at a butterfly on top of a flower. Very gently breathe in, out, in, out.  After 5 minutes, doon ako nakaramdam ng AHA moment at hindi ma-describe na saya. Marami na akong na-resolve – in just 5 minutes! Imagine because I came from that extreme sadness, 'yun lang pala ang kailangan ko – SILENCE. I was given solid answers that I needed. Alam ko 'yun na pala ang tamang desisyon na gagawin ko sa isang aspeto ng buhay ko. 'Yung sagot hindi nanggaling sa labas, pero sa loob. Because of all these clutter and ingay sa paligid natin – we cannot truly see and listen to our inner selves."
Ever since that day, there was no turning back for Daniw. These are some of the following methods to relax, reduce stress, raise vibrations and keep your heart + subconscious mind in check.
Eat HIGH-VIBE FOOD
REAL food is RAW food –fruits, vegetables, leafy greens, herbs and seeds should be eaten with minimum preparation and if necessary, cooked in low temperature. "Anything that you apply heat (sa pagluto ng food) ay bababa ang frequency." Heating holds back the natural enzymes and nutrients in your foods.
First time visitors and guests at Bahay Kalipay experience the treat of gourmet raw food, guiltless vegan desserts, fermented cheeses and drinks (kombucha) and green smoothies.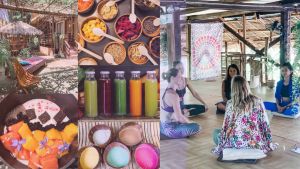 Get EXERCISE to ENERGIZE
Long hours sitting down on the computer at work? It's time to get up and insert daily exercises in your routine. Starting any physical activity brings with it a deal of discomfort and even pain but it brings about multiple benefits for your well-being. Many turn to Yoga during this pandemic as it does not only has a calming effect but greatly improves breathing and respiration. Local and international instructors at Bahay Kalipay will guide you through gentle flow sequence of asanas to gain strength and flexibility.
You can try YIN YOGA done laying or sitting that goes deep within the connective tissues of the body and ACROYOGA, a combination of yoga and acrobatics that involves lifting, having fun and getting fit with a partner.
SOUNDS & SENSES.
Aligning the chakras opens a new level of abundance and self-love through sound healing. One unique experience at Bahay Kalipay is a Sound Bath where you will feel for yourself the healing power of Tibetan Singing Bowls, Koshi chimes and soothing Voice.
It also pays to try Inner Dance, a modality originating from ancient Filipino babaylan (shamanic) tradition. Surrendering to the music aids the process of self-awakening for anyone who seeks healing & transformation.
Foreigners come to Palawan to experience what Bahay Kalipay has to offer – but it's high time for Palaweños themselves needing not to look far and overcoming these rough days to find relief, improve mood and increase vibrations in our very own island.
"Ang una ko laging tinatanong – may support system ka ba? 'Yun ang nawawala sa atin ngayon – 'yung support system. Since na nag-iba na (ang panahon), kahit sa bahay may kanya-kanyang gadgets na – may sinasabi ang anak hindi napapakinggan ng parents. May sinasabi ang parents, (wisdom ng elders) na 'yun dapat first teachings na natatanggap ng mga bata. But dahil distorted na –mas close na ang mga bata sa authority or idols na nakikita nila online."
If you need some alone time and in dire need to explore your inner world – this may just be best place you didn't know you were looking for.
"That's why Bahay Kalipay is here – is for that support na nawala. Dito walang judgment, anong nangyari sa'yo before or kung anong nangyayari sa iyo ngayon. Doctor ka ba, abogado, actor, actress, international guru, magsasaka, ang pangalan natin dito hindi nakakabitan ng kahit anong title… walang gano'n. Regardless of social status – they come. They remove those attachments sa labels. Iba ang I AM nila – ikaw lang hindi ang titles at labels. Mga tao serious sa journey to know themselves."
//
 * Don't miss the high vibes the full moon brings on this weekend's WELLNESS FIESTA  October 3 – 4 from 7am to 9pm. Connect with https://www.facebook.com/bahaykalipaypalawan for reservations.
🌕 Saturday, OCT 3 🌕
7:00am: Mindful Breathing – ₱200
10.30am: Meditation & Movement – ₱200
2:00pm: Shamanic Sound Journey – ₱200
4:00pm: Yin Yang Yoga – ₱200
6.30pm: Cacao Ceremony & Fire Circle  – ₱350
🌕 Sunday, OCT 4 🌕
7:00am:  Vinyasa Yoga – ₱200
10:30am: Journey Through the Chakras – ₱200
10.30am: Acro Yoga – ₱200
2:00pm: Dance Movement Therapy – ₱200
4:00pm: Yin Yoga – ₱200
6.30pm: Innerdance – ₱350
Breakfast, lunch & dinner, and accommodation is also available!