With enough enthusiasm, reimagining dishes so they become completely free of animal products or vegan can become easy peasy, and even fun!
But to make them vegan and raw? Yes, it's completely possible.
If you're new to eating vegetarian or vegan, it's easy to come into Bahay Kalipay Retreat Center thinking you'll be served salads, sliced fruits, and juice. We will serve you salads and fruits for sure… but there's also so much more to be excited for gastronomically. The world beyond salads – this is where real creativity starts for raw chefs.
To get your taste buds tingling and dispel the just-vegetables-and-fruit ideas, here are a few dishes we bet you didn't think could be vegan and raw.
Lasagna
Lasagna is best known for its layers of hot cheese, ground beef, and warm tomato sauce. If there is another vegetable somewhere there, it'll probably be some basil in the tomato sauce or a sprig of parsley to top the dish.
How can this be possibly be raw vegan? Zucchini, mushrooms, spinach, tomatoes, cashews, and a few other things right from the earth.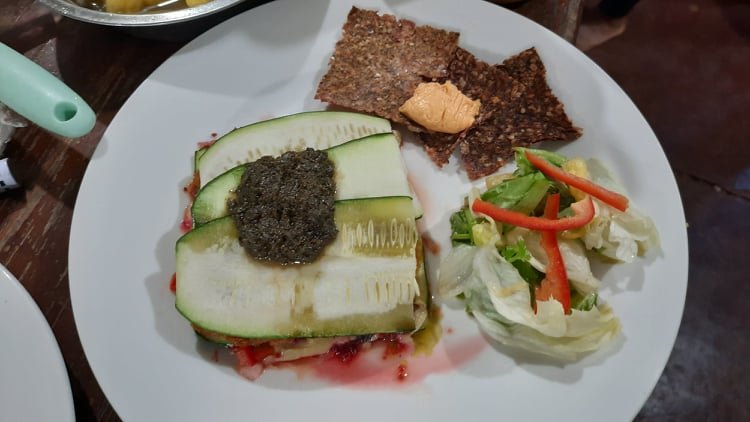 Put simply, the layers are made from zucchini, the meatiness of the dish comes from the mushrooms and spinach, and the cheese is based from cashew. Voila, raw lasagna!
Pizza
Some would argue that the best pizzas are the ones baked in brick ovens, with the thinnest of crusts. Others prefer the comfort and the approachability of pizza that comes in a warm box, through a delivery man. In both scenarios, the pizza is always hot, with melting cheese dripping over the sides.
How can you make the joy of pizza raw vegan? It starts with the crust. Raw vegan crusts can be made from sundried tomato, cauliflowers, almonds, and flax seed. From there it's exactly the same thing, except without the cooking! Vegan cheese, any vegetable topping you like, seasoning and herbs. You've got yourself a raw vegan pizza
Soup
Soup is the kind of comfort food that's pretty much universal. Whether you're dealing with a cold, a rainy day, or a heartache, a hearty bowl of soup always reminds us: we are safe. Everything will be okay.
How can soup be comforting if it isn't cooked? As many vegans will tell you, blenders will save the day. Though your soup might not be piping hot, the comfort will come in the ingredients that have all the vital force and energy you can possibly ask for from your food. Tomato soup, sweet pumpkin soup, raw cream of celery soup, cream of cucumber soup, green pea soup, raw vegan cream of spinach soup. The list goes on and on of raw soup goodness.
Pasta
Vegan pasta? Easy. Noodles can be made from different kinds of vegetables like malunggay. And of course, all kinds of sauces can be done with all kinds of vegetables. But how can you have pasta with raw, uncooked noodles?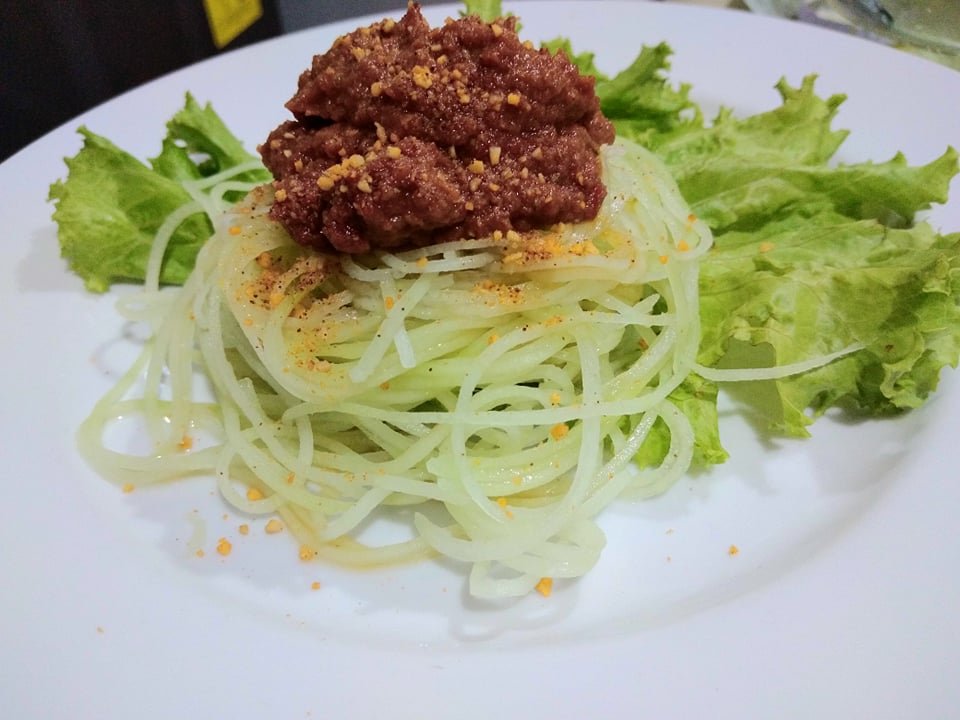 Simple. Ditch the flour and go straight to the source. With a spiralizer, you can make pasta noodles out of zucchini, cucumber, carrots, and even sweet potato. For sauce, go crazy! Tomatoes are a staple but there are so many other things you can try and enjoy.
Burgers
In its first and simplest form, burgers are baked bread buns with a generous patty of beef in the middle, and cheese, tomatoes and ketchup to seal it all together. It's a famous meal that can be found all over the world, from fancy restaurants to side street vendors – now done with all kinds of bread, meat, sauces, and garnishes!
Well, there's another variation to add to the wealth of ways you can have a burger and guess what? It's raw vegan.
We're sure the main question on your mind is, "What do we do without the meat?" Instead of beef, you can try mushrooms, sunflower seeds, sundried tomatoes, yams, carrots and chickpeas. Put them into the food processor, shape into patties, and enjoy your raw food burger.
Whether you're thinking of becoming vegetarian or you're just going to try it here at Bahay Kalipay, it's always a good idea to shake things up a little, especially if that means eating something that your body will thank you for. Raw food can be a novelty if you've never tried it before. It can also be the beginning of a shift in your health, a new day in taking care of your body. And if it can be as fun as eating pizza, burgers, and lasagna, why not?