The Indigenous People (IPs) and residents joined the Port Barton Marine Park (PBMP) Education, Information and Communication (IEC) on mangroves and the actual planting of it that was held on November 20, 2021.
PBMP aimed to raise awareness on the vital role of this tree species and their goal of caring for the ocean as well as its aquatic residents and plants. During the activity, the marine park council emphasized the ecological importance of mangroves in the environment as well as in communities.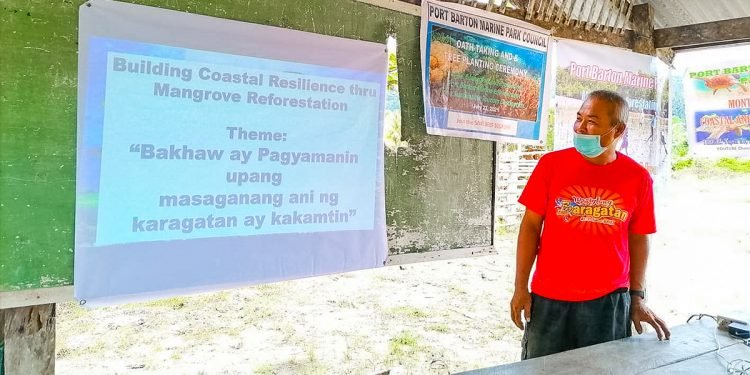 "Mangroves are the first line of defense for coastal communities (aside from spawning ground of different marine habitats). They stabilize shorelines by slowing erosion and provide natural barriers protecting coastal communities from increased storm surge, flooding, and hurricanes," as stated on their social media page.
About 35 Indigenous Peoples and residents of Sitio Bunuangin participated in the activity that aims to protect and encourage the change of people's perception and attitude towards the environment especially with the climate change threatening environmental changes which may affect livelihood, species' habitat and even their numbers, and other factors.
With the theme "Building Coastal Resilience thru Mangrove Reforestation", the PBMP educated and motivated the local community to plant mangroves as it is seen as one of the solutions for climate change.
PBMP Spokesperson Candy Rigodon said that even when the road was muddy and slippery, it did not de-spirit about 15 volunteers in their efforts of ensuring the success of the mangrove tree-planting event.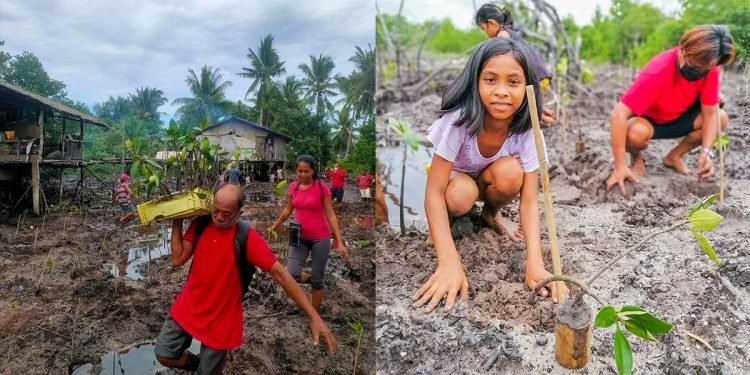 She also shared that the funding of the activity was from contributions and other sponsors like mangrove propagules bought from the IPs by their chairman Marco Philip Acosta, in partnership with the IPs' Councilor Myrna Renol, lunch for all the participants by PBMP Adviser and former DENR Forester Fernando Perlas, and snacks as well as fuel sponsored by the town's mayor, Amy Alvarez.
The mangrove tree-planting is only one of the many activities of the Port Barton Marine Park Council since it was revived on July 12, 2021, after being founded from 2001 to 2005.
The council is looking forward to more locals to engage in their environmental campaigns and activities in partnership with other organizations such as the deployment of turtle nesting guards of the Atelier Aquatic.