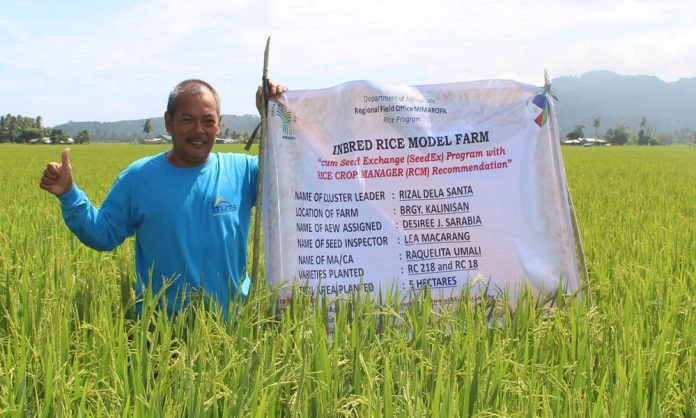 MIMAROPA farmers now have better yield because of an innovative mobile application called the RCM or Rice Crop Manager (RCM).
According to a study made by the Department of Agriculture-MIMAROPA (DA-MIMAROPA) Research Division, farmers increased its average yield to 4.93 tons/ha. in 2018 (using inbred rice variety) which is usually higher from the region's average yield that is 3.8tons/ha (before the launching of RCM in 2013).
RCM is an application for mobile and computer that allows farmer technicians to give farmers specific recommendation on nutrient, pest, weed, or water management, depending on the specific variety they used, their yield from the previous season, and the site-specific conditions of their field.
It was launched by the DA in partnership with the International Rice Research Institute (IRRI) to improve production, increase farmer's income, and provide fast and on time professional extension service to farmers through the use information and communications technology (ICT).
According to DA-MIMAROPA's Research Division, with the data from 40 demo-trials for RCM that was conducted in the three major rice-producing provinces of the region—Oriental Mindoro, Occidental Mindoro, and Palawan in 2014, the farms obtained 80% higher yields.
In 2018, there are a total of 4,207 registered fields with 3,808 registered farmers that use the RCM in the region. The numbers increased by almost 50% from year 2017 which was 2,863 only of registered fields and farmers.
The significant increase in registered fields and farmers was because of the constant intensive promotion from 2014 through the Rice Program Model Farms (RPMFs) in cooperation with the local government units. RPMFs showcase the benefits and advantages of the said application in the provinces of the region.
RCM users
Among the registered farmers who have been successful in using the RCM recommendations are Artemia Caringal, 65 and Rizal De La Santa, 54 from Victoria and Naujan of Oriental Mindoro, respectively.
Both farmers have learned how to properly apply fertilizers to their rice plants through the RCM's recommended nutrients that were based on the analysis of their fields.
"Dati noon makita lang namin na namumutla ang dahon sabog lang nang sabog (ng abono).Ang nangyayari ay dumadami ang dahon pero kukonti ang bunga. Yun pala,base naman sa rekomendasyon ng RCM, may tama palang paraan ng pag-mix ng iba't ibang klase ng abono at kung ilang days (ang intervention) bago maglagay. Ngayon, kapag lumaki ang pananim bumeberde na ang dahon marami pa ang bunga," De La Santa shared who have been using the RCM recommendations for one and a half year now.
As such, his yield increased to 115 sacks from 60 sacks of rice crop per ha.. It made him earn more than P138, 000 per hectare in the price of Php24 per kilo direct after threshing while P33.00 for dried.
Meanwhile, Caringal who uses the app for almost three years was quite hesitant at first when she was asked to try the RCM recommendation because of the amount of fertilizers that it suggested. However, she then trusted her technician's advice that it could help her improve the production. After she tried, she saw the significant changes in the quality of her rice plant and the increase in yield.
"Noong una sa tingin ko ay napakagastos noong nirerekomendang pang-abono pero nakita ko naman sa huli na maganda ang resulta…Nakakapag-harvest kami ng 90 to 103 (sako ng palay bawat hektarya) na dating 40-50 bags lamang noon," Caringal shared.
The lady farmer also sells her harvested rice crop at P24.00 and P33.00 per kilo that made her earn at least P123,600 per hectare. Both planted RC218, an export quality rice variety.
"Napakalaking tulong talaga ng ganitong proyekto ng DA dahil nakakatulong ito sa aming mga magsasaka upang tumaas ang aming ani," she uttered.
With the data presented, RCM is among the key programs that can significantly help the region and the country as well, to achieve its main goal that is rice sufficiency. ###RAFIS, DA-MIMAROPA