Are you, like us, always on the lookout for a new spot to hang out? Whether you're just aching to go outside after days of being caged inside your homes, running out of ideas of where to catch up with friends, or stepping into an exploratory state, whatever it is, think "café". Well, it's not just the ambiance, instagrammable spaces, or the smell of freshly brewed coffee but cafes has become this haven that allows us to experience stillness amid the fast-paced urban life or moments of peace in such an unpredictable time. If you're finally convinced to drink your day away, we got you covered. From vibe check to coffee and food recommendations, here are 5 new cafes in the city you shouldn't miss. You can thank us later *wink wink*. 
Café De Familia
Delos Reyes II, Brgy. San Pedro. Back of LGQ Building, corner side of City Coliseum. 
Operating hours: 5:00 am-10:00 pm 
Price range: $$$ 
Internet connecting and outlet: YES 
Within the busy neighborhood of San Pedro lies Café de Familia – a minimalistic coffee shop with that clean white aesthetic and accents of wood. It's easy to find as it is close to the highway but still has its sense of quietness. You can go al fresco or enjoy their second floor where you can get cozy and sit on the floor. Or, you can also opt to stay inside where you can be closer to their brewing counter and get a sight of their open kitchen. 
Their meals range from P65-P290. And you already can choose from sisig rice meals, pizza, pastries and something unheard of but surely a must-try: fried pizzas. Customers come back for the Sisig Fried Pizza. Yes, it's an unusual combination, but it's a twist you'll find yourself craving the next time. As for their coffee, the price plays around P135-P230. 
Their must-try are two from their special sweet-blends: Mocha de Familia and Spanish Latte, which are both served with complimentary pita bread.
Facebook page: www.facebook.com/CafedeFamilia
Avenue Café and Resto Bar
Mercado de San Miguel, Brgy. San Miguel, Puerto Princesa City. 
Operating hours: 9:00 am-9:00 pm. 
Price range: $$$ 
Internet Connection and outlet: YES 
If you're looking for a place that could cover your broad cravings, the Avenue Café and Resto Bar should be the stop to hit your brakes. You guessed it right, it's where café meets resto meets bar, hence, the name. 
You could grab lunch with the fam, spend the afternoon sipping coffee or even unwind with cocktails at night. They got you covered from their all-day breakfast, rice bowls, entrees, Italian pasta, and sandwiches. The price revolves around P139-P550, and you most definitely have to try their Baby Back Ribs – it's good for two and is served with fries and veggies. 
For the coffee aficionados, here's some good news for you: they have UNLI coffee! Yes, you read that right! You can catch this every day from 2:00pm-4:00pm for only P150. If you're looking for just a cup, their must-try coffees are Salted Caramel, Iced Caramel Macchiato, and Spanish Latte. Any of these would be a perfect combination to their Key Lime Pie or Banoffee Pie. 
For our non-caffeinated drinking peeps, they still got you. You can choose from their freshly brewed tea, frappe, fruit shake, and a milkshake or maybe you want to add a skip to your step and try their cocktails and drinks. If you need help choosing – try their Virgin Pina Colada. 
By the way, they give 10% for vaccinated customers – 1st dose and 2nd dose recipients alike – who'll dine in until September! 
Facebook page: www.facebook.com/TheAvenueCafeandRestoBar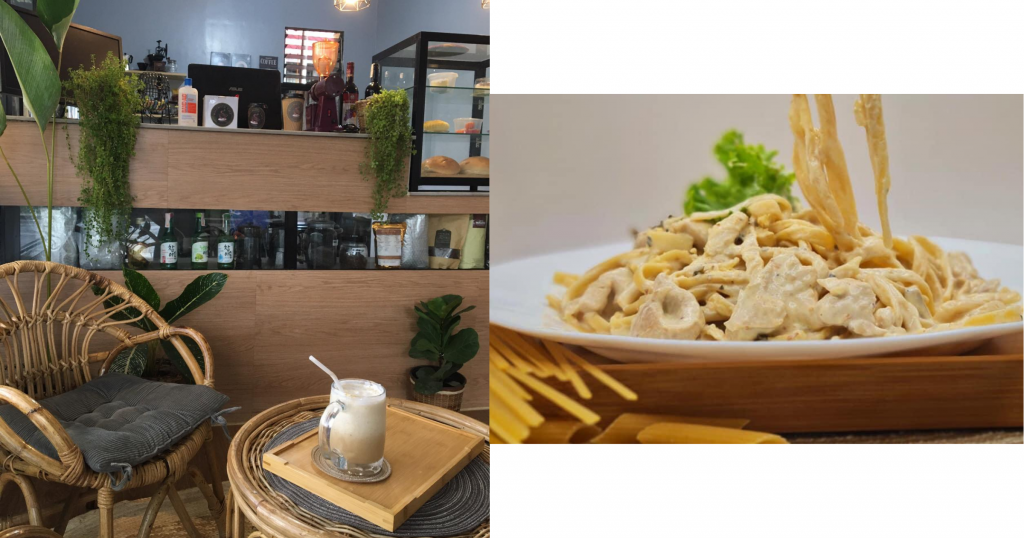 Macchiato Café
National Highway, Brgy. San Jose. In front of Bangko Sentral. 
Operating hours: 9:00 am-10:00 pm. 
Price range: $ 
Internet connection and outlet: YES 
For those who might want a getaway from the rush of the bayan area, you should check out this hidden gem along the highway of San Jose. Macchiato Café offers a cozy ambiance with its cream and native interiors. Inspired by mini coffee shops in Japan, it's perfect for those who want to spend some quality alone time or afternoon chika with a friend. You can enjoy vast options of crafted coffee blends priced at P55-P125, but make sure not to miss out on their bestselling Cheesecake Latte or Latte Macchiato. 
Other than being budget-friendly, they even let you choose the beans for your coffee. You can opt for Sagada, Benguet, Kalinga, Arabica, Excelsa, or Espresso blend. If you're up for a meal, they also offer burgers and pasta. Try their own twist of Aglio E Olio With Bacon where spice is paired with the saltiness of bacon. As for their burgers, a must-try is their MK Burger. It has patty, bacon, their special sauce, lettuce, onion, and a side serving of fries. 
Facebook page: www.facebook.com/Macchiato Cafe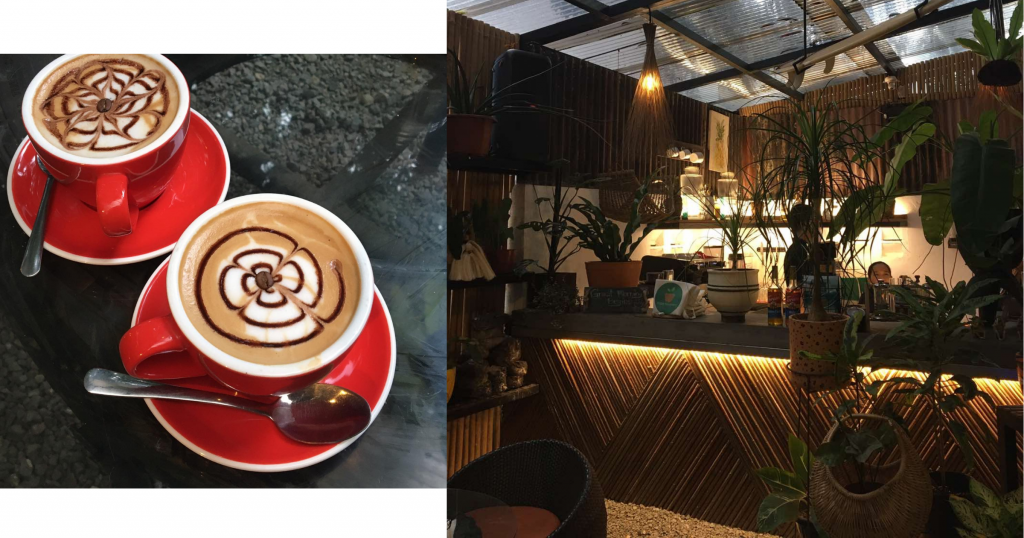 Kape Hardinera 
Manalo Extension, Brgy. Tanglaw. Beside Fujisan. 
Operating hours: 8:30am-9:30pm 
Price range: $$ 
Internet connection and outlet: YES 
Imagine this: you're in a garden café, surrounded by plants, vibing to the music, while relaxation fills you in with every sip of coffee. At Kape Hardinera, this could be just it. With its rustic al-fresco setting, the café boasts an earthy ambiance with warm lights and wooden furniture. They have unique pieces that add to their quirks such as walis-tambo as lanterns, duyans as vases and even a hanging surfboard. 
Other than its greenery, lots of natural lights come in, so it's a lively yet comfy spot to drink your day away. As for their drinks, they serve coffee, fruit shakes, and hot tea. Their coffee lineup ranges from P45-P145. And their must-try – especially for coffeeholics with a sweet tooth – are Caramel Macchiato and Spanish Latte. By the way, their coffees are served with a complimentary doughnut! 
And, if you want to grab a bite, they also offer appetizers, salads, soups, Mexican food, burgers and more. Highly recommend their take on Nacho Supreme where you'll be served with a set of homemade tortilla chips, chili con carne, cheese, and three choices of dips. 
If you want a bit of a kick with your drink options– cocktails. Try their Mango or Banana Daiquiri. And while you chug on that, you can have another one because their cocktails are a buy one, get one free! *whispers* Request your next drink to be Tequila Sunrise, it's worth a try!!
Facebook page: www.facebook.com/KapeHardinera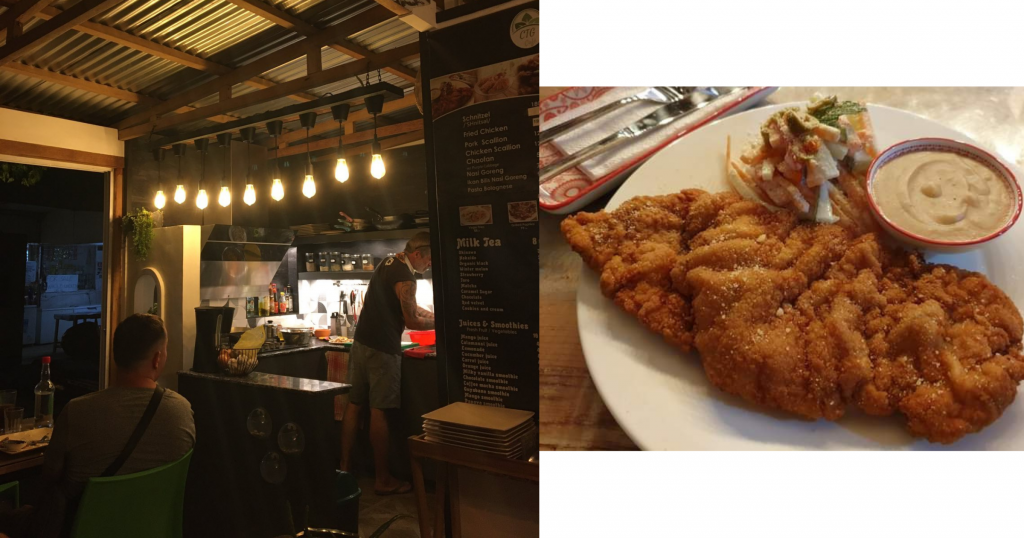 CTG Café 
Runway, Brgy. San Miguel. 
Operating hours: 10:00 am – 10:00 pm 
Price range: $ 
Internet connection and outlet: SOON 
Want to take a break from caffeine? And are you aching to try something out of your usual palette? There's a small café waiting for you along Runway in San Miguel. CTG Café offers a laid-back homey vibe with a view of the international airport runway.
For a budget of P55-P180, you can already enjoy Mediterranean and Asian cuisine. They also offer UNLIMITED RICE MEALS for an affordable price! For drinks, you can choose from their fruit smoothies or milk teas with a price range of only P30-P80.
As for their meals, make sure to try their Schnitzel, a thinly pounded meat that is breaded, fried, and sprinkled with cheese. By the way, it's a Viennese dish so not only you get a taste of Vienna, Austria but it's also an experience in itself. Here's another tip: it's best paired with their French Salad – a mix of potato, carrots, mayo and mustard.
While you're at it, throw in that Mango Smoothie. If you want to explore more of this healthy line-up, you should also try their Fresh Mix Vegetable Salad in Mediterranean dressing, and a mix you could only find in CTG – Grilled Paprika Salad..
Facebook page: www.facebook.com/CTGCafe
With these added to your go-to places, we hope that you'll enjoy amazing coffee (non-caffeinated drinks or even some with alcohol), excellent food, and a good ambiance. 
And while they supply us with joy through their servings, simply choosing these cafes would also translate to the support they deserve. Cafes in the city will only thrive through the pagtatangkilik of its locals, more so during this time of pandemic and constant change of quarantine classifications. Because dining in cafes can also become a purposeful choice. 
Let's celebrate our own and contribute to the heed of #SupportLokal.