Typhoon Odette did not spare Puerto Princesa City, including several municipalities of Palawan, where it destroyed houses, uprooted power lines, damaged telecommunication towers, and impeded land transportation due to damaged bridges.
For more than 48 hours now, all communication lines are down due to a cut on the fiber optic lines, specifically between Puerto Princesa City and the municipality of Roxas. Southern Palawan municipalities also do not have any means of communication due to fiber optic cut in Aborlan, a source confirmed.
Napsan, which is located on the western coast of Puerto Princesa City has a satellite connection, and residents were able to post online updates on what had been going on on the ground. Globe and Smart networks are operational in some parts of Roxas, El Nido, and Rizal.
Earlier today, Ruben Carandang, OCD Regional Director and RTF-RDRMMC MIMAROPA Chairperson, joined in the Emergency Operations Center (EOC) briefing regarding the effects of Typhoon Odette via video teleconference.
During the briefing, Director Carandang provided the current situation and updates on the effects of Typhoon Odette (RAI) in the region.
As per the OCD report, a total of 25 seaports are non-operational or have suspended trips as of this press time. Of which, 20 ports resumed operations in Oriental Mindoro, Romblon, Marinduque, Occidental Mindoro.
Domestic flights to and from Puerto Princesa City had been cancelled until further notice, as per advisory of the Manila International Airport Authority.
Water supply in the City had been affected due to issues with the Irawan Watershed, resulting in water shortage since Friday. Puerto Princesa City Water District is directly providing water to residents in key areas in every barangay. Posted photos online were showing people lining up in some areas where they could gather potable water for consumption.
As of Saturday evening, electric power resumed in Barangay San Pedro and Rizal Avenue. The rest of barangays are still grappling in the dark.
Residents along the coastal areas were heavily impacted, including houses made of light materials that were toppled down with trees and electric posts.
Four to five bridges in the City are not passable since most of them had been destroyed by the overflowing river. These hampered rescue efforts including provision of supplies to affected barangays and municipalities in the province.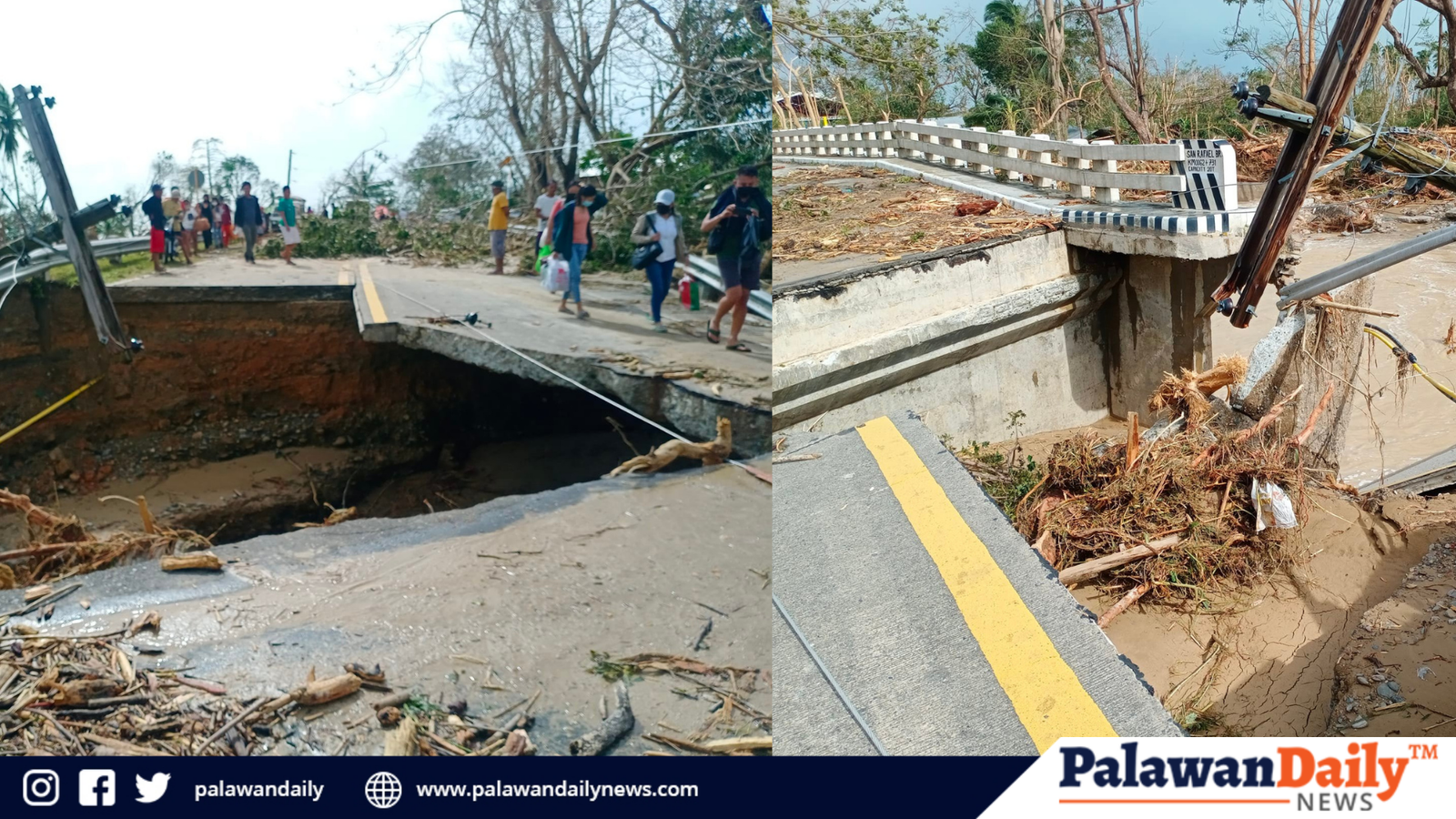 Also, there were several unverified reports of deaths due to landslides, but these could not be confirmed as of press time.
Robinsons and SM in the City are also open to cater residents to charge their mobile phones.
Meanwhile, the national highway from Aborlan down to Rizal is passable, with no issues, as per a source, albeit trees alongside had been battered by the storm.
Municipalities of Araceli and Dumaran had been severely affected, as well, where Typhoon Odette directly passed through, destroying houses, power lines and cell sites.

With reports of Kyle Venturillo, Neal Gelig Momo and Randy Bungay.
This is a developing news. Stay up to date by liking and following our page, Palawan Daily.